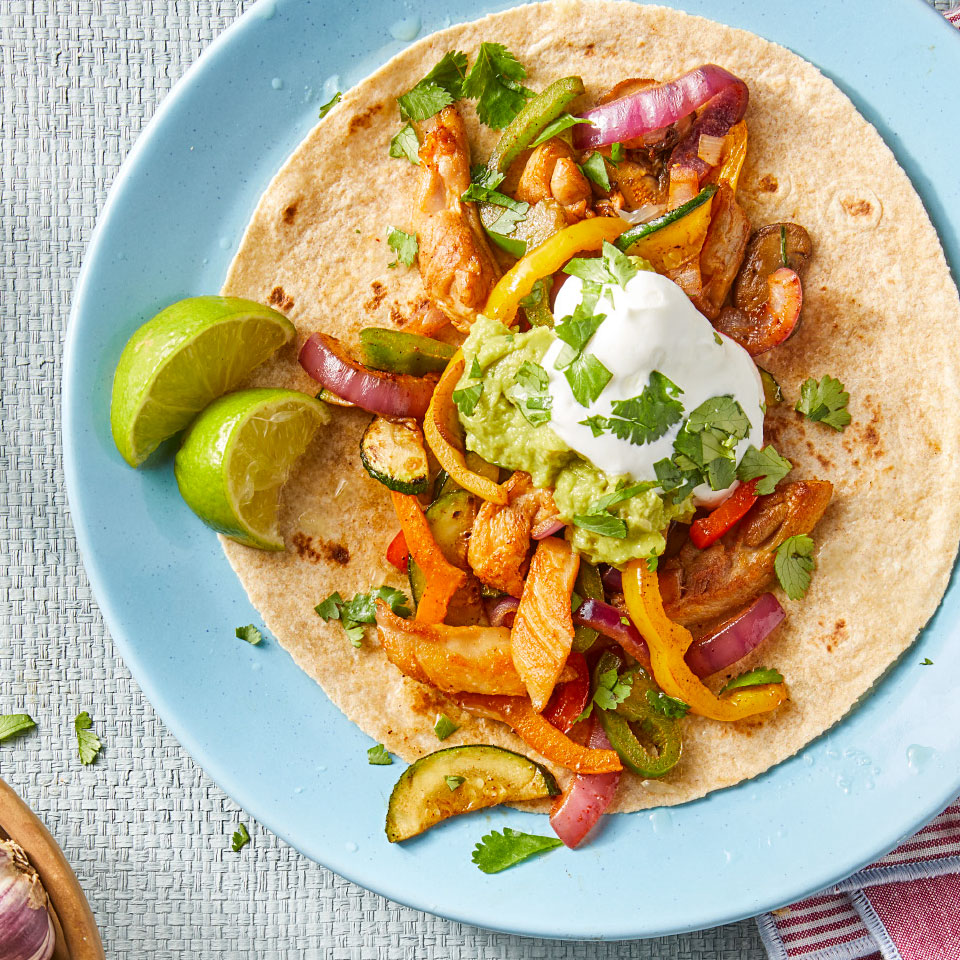 These versatile skillet chicken fajitas are designed to work with whatever vegetables you happen to have on hand.
MAKES 4 SERVING/ TOTAL TIME 25 MINUTES
INGREDIENTS
2 teaspoons canola or olive oil
1 pound boneless, skinless chicken thighs, trimmed and cut into strips
4 cups thinly sliced vegetables, such as onions, bell peppers, zucchini, and/or mushrooms (14 oz.)
1 ¼ teaspoons chili powder
¼ teaspoon salt
4 8-inch whole-wheat tortillas
½ cup prepared guacamole
½ cup nonfat plain Greek yogurt
1 lime, cut into wedges
¼ cup cilantro leaves (Optional)
METHOD

STEP 1

Heat oil in a large wok or cast-iron or other stick-resistant skillet (not Teflon-based nonstick, see Tip) over high heat. Add chicken, vegetables, chili powder, and salt; cook, tossing with tongs occasionally, until the chicken is cooked through and the vegetables begin to brown, about 7 minutes.
STEP 2
Meanwhile, stack tortillas and wrap in a barely damp, clean kitchen towel (or paper towel). Microwave on High for 30 to 45 seconds.
STEP 3
Divide the chicken-and-vegetable mixture among the tortillas. Top each with 2 Tbsp. guacamole and 2 Tbsp. yogurt. Serve with lime wedges and garnish with cilantro if desired.
Nutrition Value
391 Kcal,
12.9g fat,
2.1g saturated fat,
5.7g fiber,
32.5g protein,
34.9g carbs