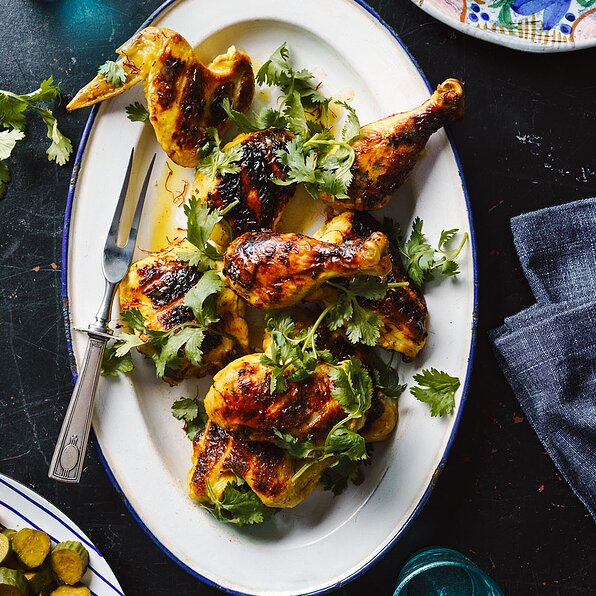 This easy grilled chicken recipe owes its tenderness to an overnight soak in a yogurt-lemon juice marinade and its soulful flavor to saffron and onion.
MAKES 6 SERVING/ TOTAL TIME 12 HOUR 50 MINUTES
INGREDIENTS
¾ teaspoon saffron, divided
1 tablespoon warm water
1 cup whole-milk plain yogurt
1 medium onion, finely chopped
½ cup lemon juice
1 teaspoon sea salt
1 teaspoon ground pepper
3 ½ pounds bone-in, skin-on chicken pieces
2 tablespoons unsalted butter
1 bunch Cilantro or dill sprigs for garnish
METHOD

STEP 1

Combine 1/2 teaspoon saffron and water in a large bowl. Let stand for 5 minutes. Stir in yogurt, onion, lemon juice, salt and pepper. If using any chicken breasts, cut into 2 equal portions. Add chicken to the marinade and turn to coat. Cover and refrigerate for at least 12 hours or up to 24 hours,
Remove the chicken from the marinade and drain well.
STEP 2
Oil the grill rack. Grill the chicken, turning once or twice, until browned and an instant-read thermometer inserted in the thickest part without touching bone registers 165 degrees F, 16 to 24 minutes total. Move the chicken to a cooler spot, as needed, to dodge any flare-ups. Crumble the remaining 1/4 teaspoon saffron into the pan and cook until fragrant, about 2 minutes. Remove from heat.
Garnish with cilantro (or dill), if desired.
Nutrition Value
368 Kcal,
19.9g fat,
7.2g saturated fat,
0.3g fiber,
41.9g protein,
3.2g carbs