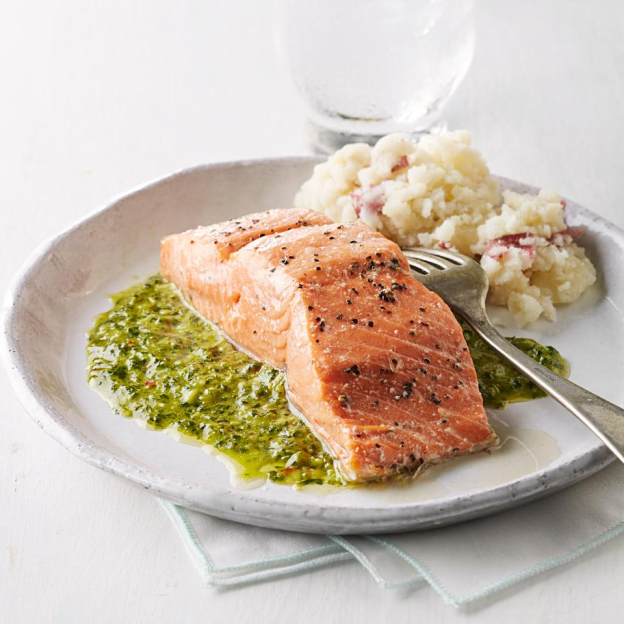 ROAST SALMON WITH CHIMICHURRI SAUCE
Chimichurri--a bright, herby sauce served across Argentina--is the perfect healthy sauce for an easy salmon dinner. 
MAKES 4 SERVING/ TOTAL TIME 25 MINUTES
INGREDIENTS
3 tablespoons lemon juice
2 tablespoons extra-virgin olive oil
2 tablespoons low-fat mayonnaise
1 clove garlic, minced
½ teaspoon freshly ground pepper
2 boneless, skinless chicken breasts (about 1 pound total), trimmed
⅛ teaspoon salt
2 small romaine hearts
⅓ cup finely shredded Parmesan cheese
4 8- to 9-inch spinach wraps, warmed
METHOD

STEP 1

Preheat grill to medium-high. Combine lemon juice, oil, mayonnaise, garlic and pepper in a large bowl. Oil the grill rack ,Sprinkle chicken with salt. Cut romaine in half lengthwise, leaving root ends intact. Grill the chicken until an instant-read thermometer inserted into the thickest part registers 165 degrees F, 4 to 6 minutes per side. Two minutes before the chicken is done, place the romaine on the rack and grill, turning once or twice, until lightly charred and beginning to wilt, 2 to 3 minutes total.
STEP 2
Cut the chicken into bite-size pieces. Cut the root ends off the romaine, then chop the leaves. Add the chicken, lettuce and Parmesan to the bowl with the dressing; toss until well combined. Fill each wrap with about 1 1/2 cups of the salad and roll closed.
Nutrition Value
378 Kcal,
24.7g fat,
4.1g saturated fat,
0.7g fiber,
34.6g protein,
2.5g carbs