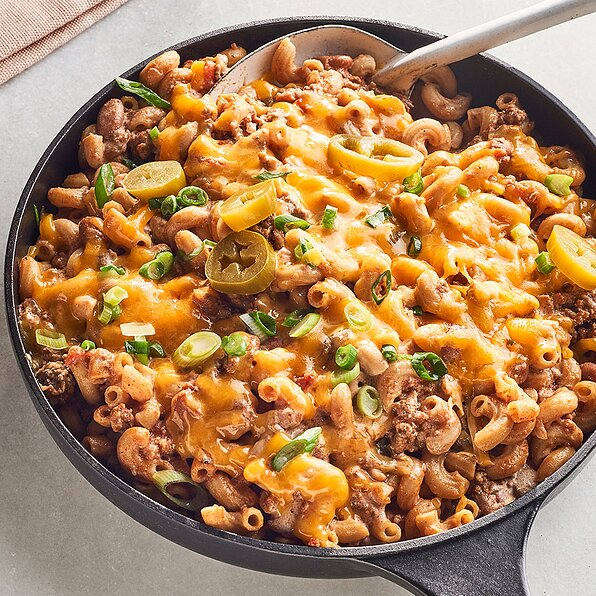 Poblanos add a kick of heat to this chili mac recipe. 
MAKES 6 SERVING/ TOTAL TIME 35 MINUTES
INGREDIENTS
12 ounces whole-wheat elbow noodles, rotini or fusilli
2 tablespoons extra-virgin olive oil
1 large onion, diced
2 medium poblano peppers and/or green bell peppers
1 medium stalk celery, diced
3 cloves garlic, minced
1 pound lean ground beef
3 tablespoons chili powder
½ teaspoon salt
1 (28 ounce) can diced tomatoes
1 cup low-sodium beef broth
1 (15 ounce) can low-sodium kidney beans or chili beans, rinsed
½ cup sour cream
¾ cup shredded sharp Cheddar cheese
Sliced scallions and/or pickled jalapeños for garnish
METHOD

STEP 1

Cook pasta 2 minutes less than the package directions. Drain. Meanwhile, heat oil in a large skillet over medium-high heat. Add onion, peppers and celery and cook, stirring often, until softened, 4 to 5 minutes. Add garlic and cook, stirring, for 30 seconds. Add beef, chili powder and salt; cook, stirring and breaking up with a spoon, until the beef is no longer pink, 4 to 5 minutes.
STEP 2
Add tomatoes with their juice and broth; bring to a boil over high heat and cook for 2 minutes. Add beans and the pasta, reduce heat to medium and cook, stirring often, until hot, 1 to 2 minutes. Remove from heat. Fold in sour cream. Serve topped with Cheddar and scallions and/or pickled jalapeños, if desired.
Nutrition Value
567 Kcal,
21.8g fat,
8g saturated fat,
14.3g fiber,
33.7g protein,
64.4g carbs