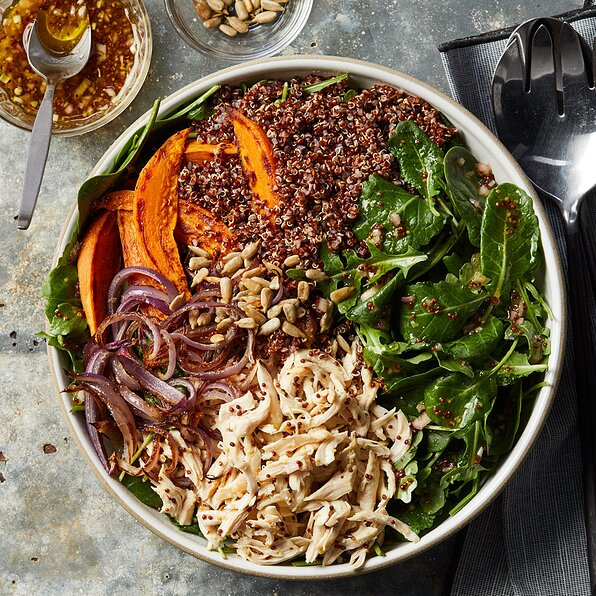 Make this satisfying salad in the evening and enjoy one portion for dinner, then pack the remaining portion for lunch the next day. 
MAKES 2 SERVING/ TOTAL TIME 40 MINUTES
INGREDIENTS
1 medium sweet potato, peeled and cut into 1/2-inch-thick wedges
½ red onion, cut into 1/4-inch-thick wedges
2 tablespoons extra-virgin olive oil, divided
½ teaspoon garlic powder
¼ teaspoon salt, divided
8 ounces chicken tenders
2 tablespoons whole-grain mustard, divided
1 tablespoon finely chopped shallot
1 tablespoon pure maple syrup
1 tablespoon cider vinegar
4 cups baby greens, such as spinach, kale and/or arugula, washed and dried
½ cup cooked red quinoa, cooled
1 tablespoon unsalted sunflower seeds, toasted
METHOD

STEP 1

Preheat oven to 425 degrees F. Toss sweet potato and onion with 1 tablespoon oil, garlic powder and 1/8 teaspoon salt in a medium bowl. Spread on a large rimmed baking sheet and roast for 15 minutes.
Meanwhile, add chicken and 1 tablespoon mustard to the bowl; toss to coat. When the vegetables have roasted for 15 minutes, remove from the oven and stir. Add the chicken to the pan. Return to the oven and continue roasting until the vegetables are beginning to brown and the chicken is cooked through, about 10 minutes more. Remove from the oven and let cool.
Meanwhile, whisk shallot, maple syrup, vinegar and the remaining 1 tablespoon oil, 1 tablespoon mustard and 1/8 teaspoon salt in the large bowl.
STEP 2
When the chicken has cooled, shred it and place in the bowl with the dressing. Add baby greens, quinoa and the roasted vegetables. Toss with the dressing and sprinkle with sunflower seeds.
Nutrition Value
466 Kcal,
21.1g fat,
3.1g saturated fat,
5.5g fiber,
27g protein,
35.4g carbs