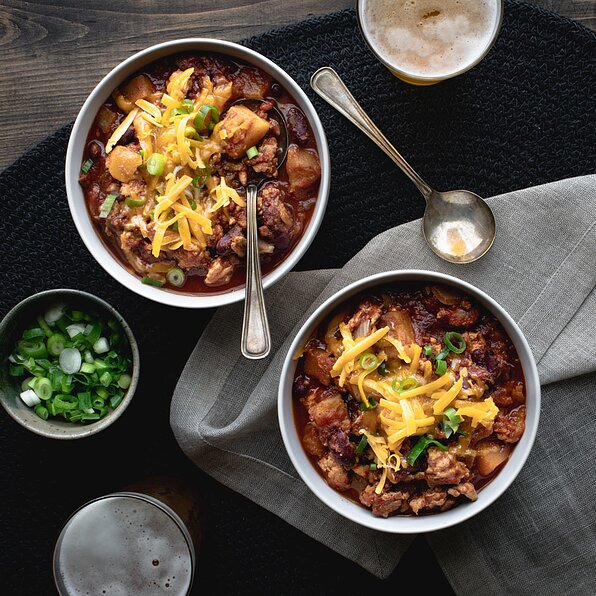 SLOW-COOKER TURKEY CHILI WITH BUTTERNUT SQUASH
The sweetness of the butternut squash tames the kick from cayenne in this healthy turkey chili, making this easy crock pot chili just right for kids and adults alike, whether for weeknight dinners or tailgating parties. 
MAKES 4 SERVING/ TOTAL TIME  4 HOUR30 MINUTES
INGREDIENTS
1 pound lean ground turkey
1 (28 ounce) can no-salt-added crushed tomatoes
1 (14 ounce) can kidney beans, rinsed
1 large onion, diced
4 cups cubed butternut squash
1 cup water
¼ cup tomato paste
3 tablespoons chili powder
1 tablespoon ground cumin
1 tablespoon finely chopped fresh garlic
½ teaspoon ground cinnamon
¾ teaspoon salt
¼ teaspoon cayenne
1 cup shredded sharp Cheddar cheese, for serving
½ cup sliced scallions, for serving
Hot sauce, for serving
METHOD

STEP 1

Coat a large nonstick skillet with cooking spray; heat over medium-high heat. Add turkey and cook, breaking it up into chunks, until no longer pink, 5 to 6 minutes. Transfer to a 5- to 6-quart slow cooker.
STEP 2
Add tomatoes, kidney beans, onion, squash, water, tomato paste, chili powder, cumin, garlic, cinnamon, salt and cayenne to the slow cooker; stir to combine. Cover and cook on High for 4 hours or Low for 8 hours.
STEP 3
Remove lid and stir to combine. Serve hot, topped with Cheddar, scallions and hot sauce, if desired.
Nutrition Value
276 Kcal,
6.5g fat,
1.5g saturated fat,
12.6g fiber,
22.4g protein,
50g carbs