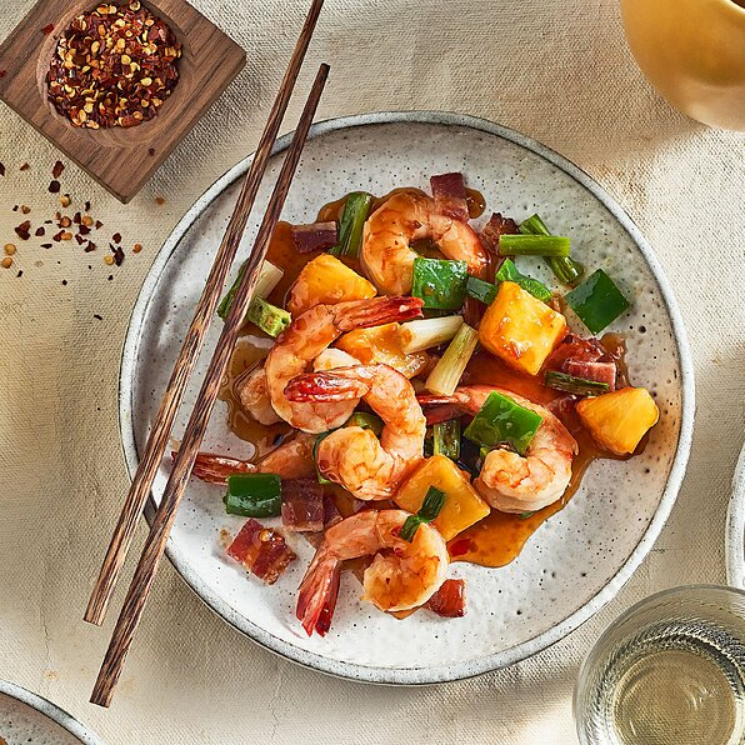 EASY SHRIMP STIR-FRY WITH GREEN PEPPER, PINEAPPLE & BACON
This sweet, spicy and super-easy shrimp-and-vegetable stir-fry starts with a very small amount of bacon in the wok, which creates drippings that add tons of smoky flavor to the vegetables and shrimp that go in next.
MAKES 4 SERVING/ TOTAL TIME 20 MINUTES
INGREDIENTS
2 tablespoons sweet chili sauce
2 tablespoons Shaoxing rice wine
2 tablespoons reduced-sodium tamari
2 tablespoons water
2 teaspoons cornstarch
2 ounces thick-cut bacon, cut into 1/2-inch pieces
1 large green bell pepper, chopped
12 ounces peeled and deveined raw shrimp (21-25 count)
1 bunch scallions, cut into 1-inch pieces
1 tablespoon minced peeled fresh ginger
¼ teaspoon crushed red pepper
1 ½ cups chopped fresh pineapple (1-inch pieces)
METHOD

STEP 1

Combine chili sauce, rice wine (or sherry), tamari, water and cornstarch in a small bowl. Set next to the stove.
STEP 2
Cook bacon in a large flat-bottom wok or large skillet over medium-high heat, stirring, until crisp, about 5 minutes. Using a slotted spoon, transfer the bacon to a plate.

STEP 3
Add bell pepper to the drippings in the pan and cook, stirring, for 1 minute. Add shrimp, scallions, ginger and crushed red pepper; cook, stirring, until the shrimp are cooked through, about 2 minutes. Stir the reserved sauce and add to the pan along with pineapple and the bacon. Cook, stirring, until the sauce thickens slightly, about 1 minute more
Nutrition Value
180 Kcal,
2.6g fat,
0.8g saturated fat,
2.2g fiber,
21g protein,
17.7g carbs