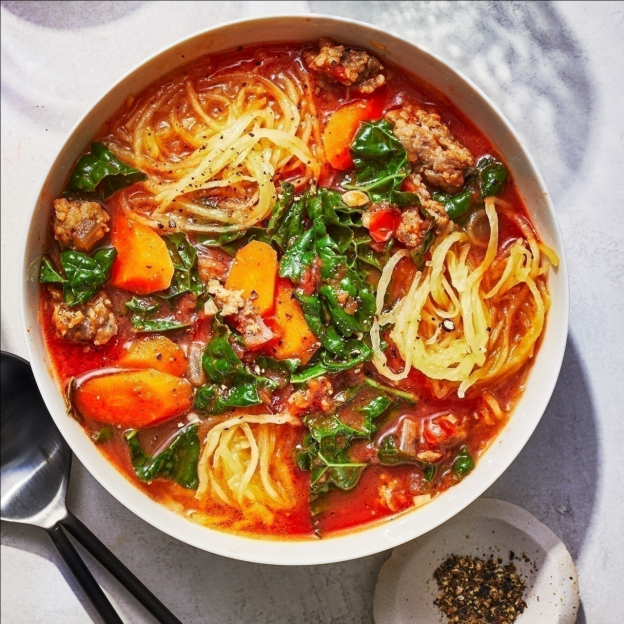 SPAGHETTI SQUASH SOUP WITH SAUSAGE
This easy soup is a great way to showcase the versatility of spaghetti squash.
MAKES 6 SERVING/ TOTAL TIME 40 MINUTES
INGREDIENTS
1 medium spaghetti squash (3 1/2 lbs.), halved lengthwise and seeded
2 tablespoons extra-virgin olive oil, divided
12 ounces sweet Italian sausage, casings removed
1 medium yellow onion, thinly sliced
4 small carrots, sliced into 1/4-inch-thick rounds
3 medium cloves garlic, minced
¼ teaspoon crushed red pepper
1 ½ cups no-salt-added crushed tomatoes
4 cups unsalted chicken broth
2 cups thinly sliced lacinato kale
¼ teaspoon ground pepper
METHOD

STEP 1

Preheat oven to 400°F. Rub cut sides of squash with 1 tablespoon oil. Place squash, cut-sides down, on a baking sheet. Roast until tender when pierced with a fork, about 30 minutes. Using a fork, scrape the squash strands into a medium bowl. Meanwhile, heat the remaining 1 tablespoon oil in a large skillet over medium-high heat. Add sausage and cook, using a wooden spoon to break it into small pieces, until browned, about 8 minutes. Add onion, carrots, garlic and crushed red pepper; cook, stirring often, until the onion is just translucent, about 2 minutes. Add tomatoes and broth and bring to a boil over medium-high. Reduce heat to medium-low and simmer, stirring occasionally, until carrots and onion are almost tender, 5 to 6 minutes. Stir in kale and cook until tender, about 3 minutes. Remove from heat. Season with pepper.
To serve, place 1/2 cup squash strands in each of 6 bowls, reserving the remaining squash strands for another use. Ladle the tomato-sausage soup around the squash in the bowls.
Nutrition Value
263 Kcal,
10g fat,
3g saturated fat,
7g fiber,
16g protein,
30g carbs
39.8g carbs