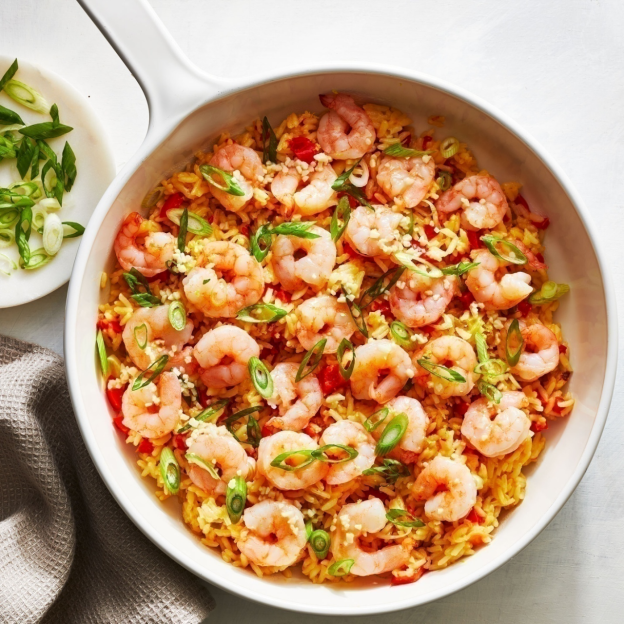 ONE-PAN GARLICKY SHRIMP & RICE
This one-pan garlicky shrimp and rice dish makes a great easy dinner with easy cleanup. 
MAKES 4 SERVING/ TOTAL TIME 60 MINUTES
INGREDIENTS
3 small scallions
5 medium cloves garlic, divided
2 tablespoons extra-virgin olive oil
2 small bell peppers, chopped
2 teaspoons grated lemon zest
¼ teaspoon crushed red pepper
1 cup long-grain white rice
2 cups water
½ teaspoon salt
12 ounces medium peeled, deveined raw shrimp
2 tablespoons butter
2 teaspoons lemon juice
Lemon wedges for serving
METHOD
Slice white and light green parts of scallions; set aside. Thinly slice dark green scallion parts; set aside. Thinly slice 4 garlic cloves; set aside.
Heat oil in a large, deep nonstick skillet with a tight-fitting lid over medium-high heat. Add the white and light green scallion slices, bell peppers, lemon zest, crushed red pepper and the sliced garlic. Cook, stirring occasionally, until the peppers slightly soften, 5 to 6 minutes. Add rice; cook, stirring constantly, for 1 minute. Stir in water and salt; bring the mixture to a simmer over medium-high heat. Cover and reduce heat to low. Cook, undisturbed, until the rice is tender, about 20 minutes, arranging shrimp on top of the mixture the final 5 minutes of cook time. Remove from heat; let stand, covered, until the shrimp are cooked through, about 5 minutes. Combine butter, lemon juice and the grated garlic in a small microwaveable bowl. Microwave on High until the butter is melted, about 25 seconds. Stir the mixture and drizzle over the shrimp. Sprinkle with the reserved dark green scallion slices. Fluff the rice using a fork. Serve with lemon wedges, if desired.
Nutrition Value
383 Kcal,
14g fat,
8g saturated fat,
3g fiber,
17g protein
, 47g carbs