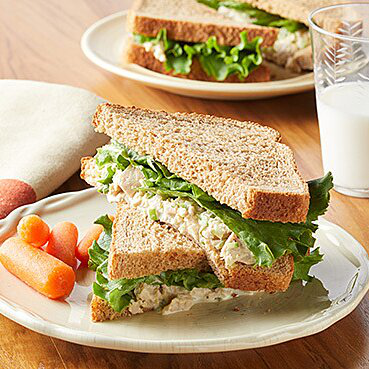 TUNA SALAD SANDWICH WITH SWEET RELISH
This sweet twist on a classic tuna-salad sandwich is a healthy high-protein lunch that even your kids will love.
MAKES 2 SERVING/ TOTAL TIME 10 MINUTES
INGREDIENTS
1 (5 ounce) can chunk light tuna in water, drained
2 tablespoons mayonnaise
4 teaspoons sweet pickle relish
2 tablespoons finely chopped celery
4 slices whole-wheat sandwich bread
2 leaves green-leaf lettuce
METHOD

STEP 1

Combine tuna, mayonnaise, relish and celery in a medium bowl. Divide the tuna salad between 2 slices of bread. Top each with a lettuce leaf and another slice of bread. Cut into halves or quarters.
Nutrition Value

 342 Kcal,
14.5g fat,
2.6g saturated fat,
3.7g fiber,
24.1g protein,
28.1g carbs