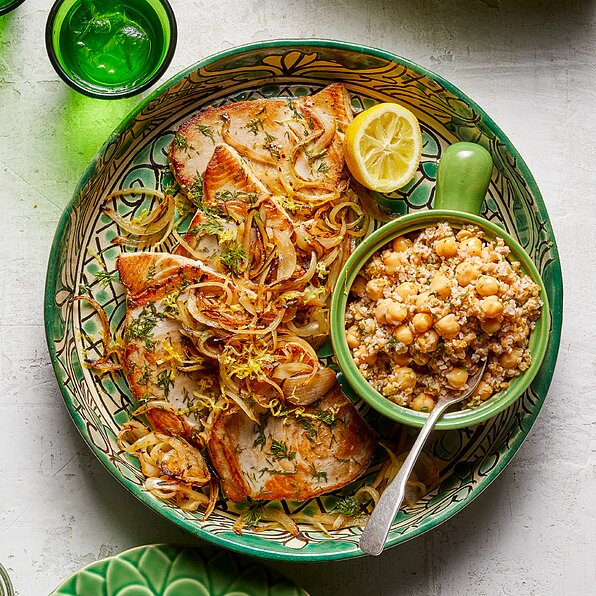 TURKISH SEARED TUNA WITH BULGUR & CHICKPEA SALAD
This healthy tuna recipe combines many of Turkey's most beloved foods and flavors--fresh fish, olive oil, lemon juice, fresh herbs and chickpeas. 
MAKES 4 SERVING/ TOTAL TIME 45 MINUTES
INGREDIENTS
½ cup bulgur
¼ cup extra-virgin olive oil, divided
4 teaspoons grated lemon zest, divided
½ cup lemon juice, divided
½ teaspoon salt, divided
¼ teaspoon ground pepper
1 (15 ounce) can no-salt-added chickpeas
¼ cup chopped fresh Italian parsley
¼ cup chopped fresh mint
1 pound tuna, cut into 4 steaks
1 medium yellow onion, thinly sliced
¼ cup chopped fresh dill
METHOD
Bring a kettle of water to a boil. Place bulgur in a large heatproof bowl. Add boiling water to cover by 2 inches. Let stand for 30 minutes. Drain any excess water.
Mix the bulgur with 2 Tbsp. oil, 2 tsp. lemon zest, 1/4 cup lemon juice, 1/4 tsp. salt, and pepper. Add chickpeas, parsley, and mint; stir to combine. Set aside.
Heat the remaining 2 Tbsp. oil in a large skillet over medium-high heat. Add tuna steaks and sear until lightly browned on one side, 2 to 3 minutes. Transfer to a plate. Reduce heat to medium. Add onion to the pan and cook, stirring occasionally, until translucent, about 5 minutes. Reduce heat to medium-low. Return the tuna steaks to the pan, cover, and cook, flipping once, until the tuna begins to flake when tested with a fork 3 to 4 minutes per side. Meanwhile, combine dill with the remaining 1/4 cup lemon juice and 1/4 tsp. salt in a small bowl. Transfer the tuna to a serving platter. Spoon the onions over the tuna and drizzle with the lemon juice-dill mixture. Sprinkle with the remaining 2 tsp. lemon zest and serve with the bulgur salad.
Nutrition Value
459 Kcal,
16.2g fat,
2.4g saturated fat,
8.2g fiber,
35.9g protein,
43.2g carbs