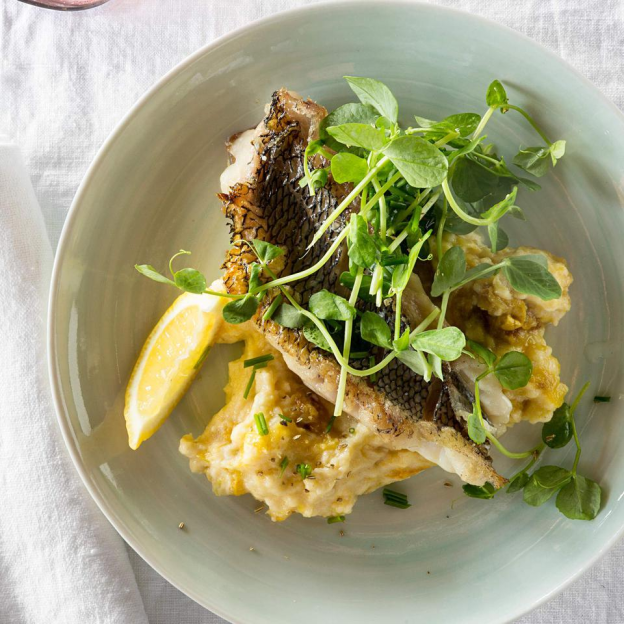 BLACK SEA BASS WITH SUMMER SQUASH POLENTA
In this healthy seared fish recipe, salting the fish's skin draws out the moisture, which helps it get nice and crispy in the hot pan.
MAKES 4 SERVING/ TOTAL TIME 60 MINUTES
INGREDIENTS
Squash Polenta
1 pound yellow summer squash
1 tablespoon extra-virgin olive oil
½ cup finely chopped shallots
½ teaspoon kosher salt
Ground pepper to taste
1 cup whole milk
¾ cup water
½ cup instant polenta
1 tablespoon butter
Fish
1 ¼ pounds skin-on black sea bass or striped bass, scales removed
1 tablespoon kosher salt
3 tablespoons grapeseed oil
¼ teaspoon ground pepper
Greens
1 cup pea greens or pea sprouts
1 teaspoon lemon juice
1 teaspoon extra-virgin olive oil
½ teaspoon fennel pollen or 1/4 teaspoon ground fennel seed
1 tablespoon minced fresh chives
kosher salt
METHOD
Preheat oven to 375 degrees F. Coat a rimmed baking sheet with cooking spray. Cut squash in half lengthwise and scoop out any seeds. Place cut-side down on the prepared baking sheet. Bake until tender, 30 to 35 minutes. Cut fish into 4 portions. Score the skin with diagonal cuts every 1/2 inch or so, slicing the skin but not the flesh beneath. Season the skin side with 1 tablespoon salt. Place skin-side down on a plate lined with paper towels and refrigerate for 30 minutes. Rinse the fish with cold water and pat dry. Return to the refrigerator until ready to cook. Heat 1 tablespoon olive oil in a large saucepan over medium heat. Add shallots; cook, stirring often, until translucent, 2 to 3 minutes. Season with 1/2 teaspoon salt and pepper. Add milk and water; bring to a simmer. add polenta in a slow, steady stream. Reduce heat to low; cook, whisking, until thickened, 2 to 3 minutes. Stir in butter and the squash puree. Remove from heat; cover to keep warm. Heat grapeseed oil in a large cast-iron skillet over high heat. Season the fish with pepper.
Nutrition Value
421 Kcal,
22.4g fat,
5.3g saturated fat,
4g fiber,
27.8g protein,
27.7g carbs