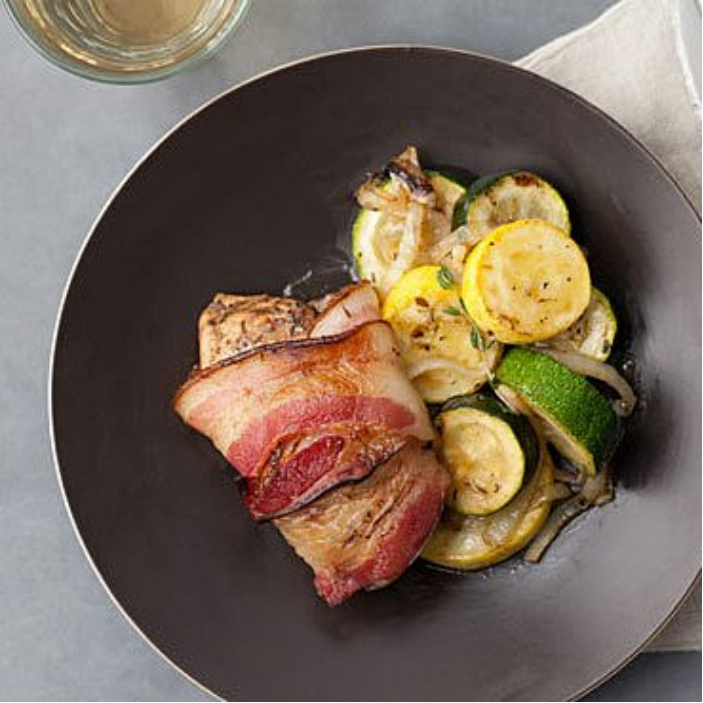 BACON-WRAPPED CHICKEN WITH ROASTED ZUCCHINI
We wrap tender chicken with strips of bacon that crisp up when placed under the broiler. It's a fast recipe for a satisfying, healthy meal.
MAKES 4 SERVING/ TOTAL TIME 35 MINUTES
INGREDIENTS
2 (8 ounce) boneless, skinless chicken breasts, trimmed and halved
1 tablespoon balsamic vinegar
1 teaspoon extra-virgin olive oil plus 1 tablespoon divided
1 teaspoon dried thyme, divided
½ teaspoon salt, divided
½ teaspoon ground pepper, divided
4 slices bacon
1 ½ pounds zucchini and/or summer squash, cut into 1/2-inch slices
1 small onion, halved and sliced
METHOD

STEP 1

Position racks in upper and lower third of oven; preheat to 425 degrees F.
Combine chicken, vinegar, 1 teaspoon oil, 1/2 teaspoon thyme and 1/4 teaspoon each salt and pepper in a medium bowl. Wrap 1 slice of bacon around each piece of chicken and place on a large rimmed baking sheet. Roast on the lower oven rack for 5 minutes.
STEP 2
Meanwhile, combine squash, onion and the remaining 1 tablespoon oil, 1/2 teaspoon thyme and 1/4 teaspoon each salt and pepper in a large bowl. After the chicken has cooked for 5 minutes, add the squash mixture to the pan in a single layer. Continue roasting for 10 minutes more. Remove the pan from the oven. Turn the broiler on high. Stir the vegetables and transfer the pan to the upper rack. Broil until the squash is tender and the chicken is just cooked through, about 5 minutes more.
Nutrition Value
334 Kcal,
19.1g fat,
5.1g saturated fat,
2.3g fiber,
31.4g protein,
8.7g carbs