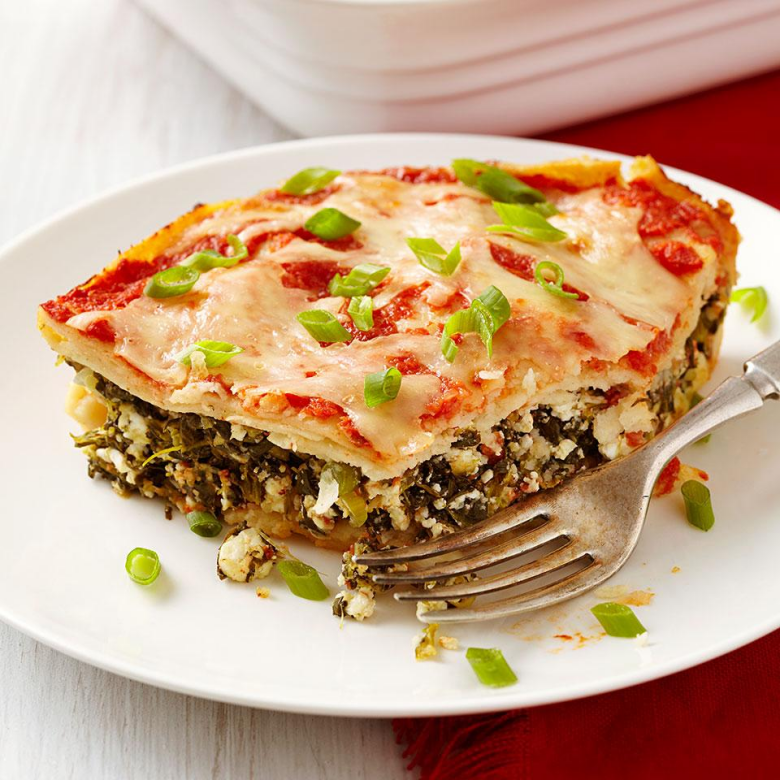 VEGETARIAN SPINACH ENCHILADAS
This vegetarian enchilada recipe is weeknight-fast when you skip the step of filling and rolling the enchiladas and make a stacked enchilada casserole instead.
MAKES 4 SERVING/ TOTAL TIME 45 MINUTES
INGREDIENTS
1 14-ounce can diced tomatoes
1 small onion, chopped
3 teaspoons minced canned chipotle chiles , divided
¼ teaspoon salt
1 ½ cups low-fat, reduced-sodium cottage cheese
1 10-ounce package frozen chopped spinach, thawed and squeezed dry
1 cup shredded Monterey Jack cheese, divided
1 bunch scallions, sliced, white and green parts separated
½ teaspoon garlic powder
8 6-inch corn tortillas
METHOD

STEP 1

Preheat oven to 450 degrees F. Coat an 8-inch-square baking dish with cooking spray.
STEP 2
Place tomatoes, onion, 2 teaspoons chipotle and salt in a blender. Puree until smooth. Mash cottage cheese in a medium bowl; stir in spinach, 1/2 cup cheese, scallion whites, garlic powder and the remaining 1 teaspoon chipotle.

STEP 3
Spread 1/4 cup of the tomato sauce in the prepared baking dish. Cover with 4 tortillas (they will overlap). Spread on 1/2 cup sauce, then all the spinach filling. Top with another 1/4 cup sauce. Layer on the remaining 4 tortillas and the remaining 1 cup sauce. Sprinkle the remaining 1/2 cup cheese on top.
Bake the casserole until the cheese is melted and the filling is hot, about 25 minutes. Sprinkle with 2 tablespoons of the reserved scallion greens.
Nutrition Value
325 Kcal,
11.6g fat,
6.2g saturated fat,
7.6g fiber,
24.1g protein,
34.2g carbs