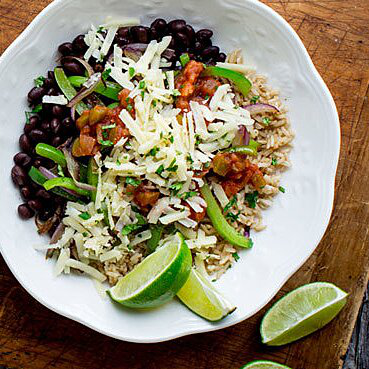 Simple brown rice and black beans serve as the backdrop for sautéed veggies and taco toppings!
MAKES 1 SERVING/ TOTAL TIME 20 MINUTES
INGREDIENTS
1 teaspoon olive oil
½ green bell pepper, cored and sliced
½ red onion, sliced
½ cup cooked brown rice
¼ cup canned black beans, rinsed
¼ cup shredded sharp Cheddar cheese (1 oz.)
¼ cup pico de gallo or salsa
2 tablespoons Chopped fresh cilantro, lime wedges and hot sauce for serving
METHOD

STEP 1

Heat oil in a medium skillet over medium heat. Add bell pepper and onion; cook, stirring often, until the vegetables are crisp-tender, 5 to 8 minutes. Mound rice and beans in a bowl. Top with the vegetables, cheese, pico de gallo (or salsa) and cilantro, if using. Serve with lime wedges and hot sauce, if desired.
Nutrition Value

435 Kcal,
15.5g fat,
6.4g saturated fat,
9.6g fiber,
16.4g protein,
59.6g carbs