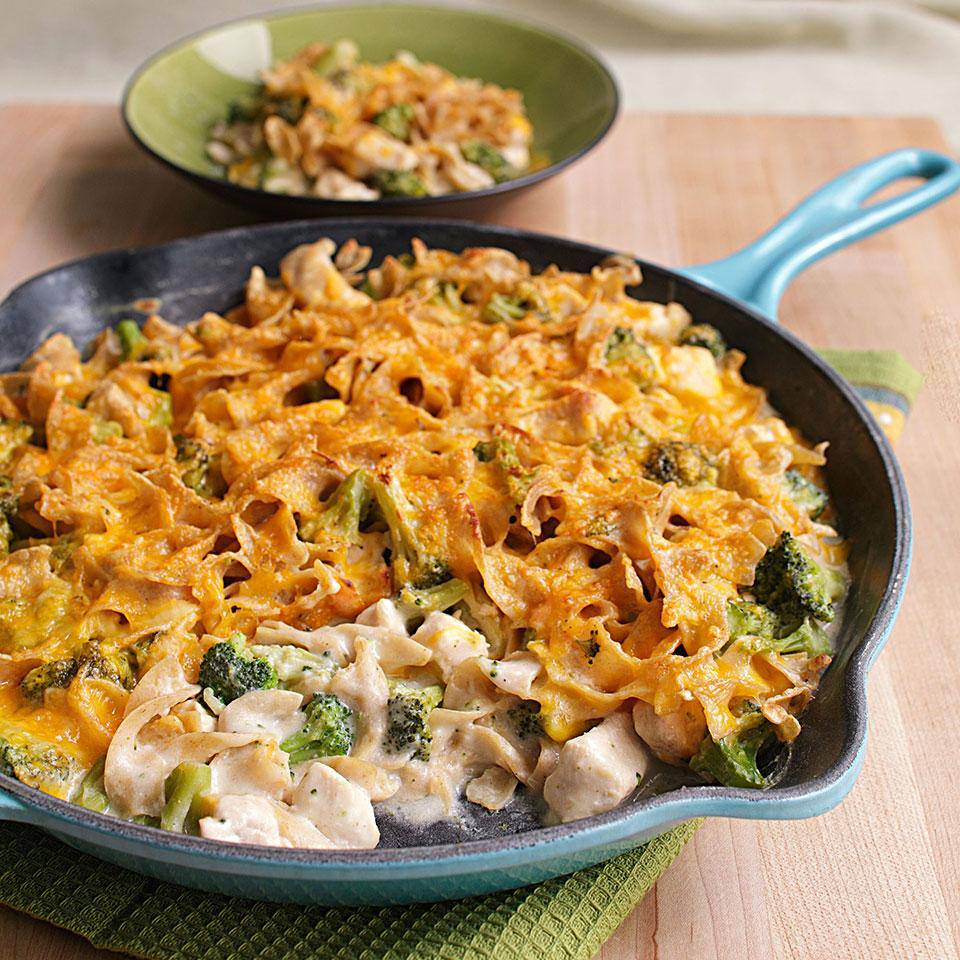 STOVETOP CHICKEN & BROCCOLI CASSEROLE
We trimmed 9 grams of fat and almost 100 calories in this makeover of cheesy chicken-and-broccoli casserole.
MAKES 6 SERVING/ TOTAL TIME 40 MINUTES
INGREDIENTS
8 ounces whole-wheat egg noodles
1 14-ounce can reduced-sodium chicken broth
1 pound boneless, skinless chicken breasts, trimmed, cut into 3/4-inch pieces
1 14- to 16-ounce package frozen broccoli florets, thawed and chopped, if desired
1 ½ cups skim milk
½ cup reduced-fat mayonnaise
3 tablespoons all-purpose flour
1 ½ teaspoons dry mustard
½ teaspoon garlic powder
¼ teaspoon salt
¼ teaspoon freshly ground pepper
1 1/2 cups shredded Colby-Jack or Cheddar cheese
METHOD

STEP 1

Place noodles in a large skillet. Pour broth over the noodles. Layer chicken, then broccoli over the noodles.
STEP 2
Whisk milk, mayonnaise, flour, dry mustard, garlic powder, salt and pepper in a medium bowl. Pour over the broccoli.
STEP 3
Bring to a simmer over medium-high heat. Reduce heat to maintain a simmer, cover and cook, stirring once or twice, until the noodles and chicken are cooked through, 15 to 18 minutes.
STEP 4
Meanwhile, position rack in upper third of oven; preheat broiler. When the casserole is done, sprinkle cheese on top and broil until lightly browned, about 3 minutes.
Nutrition Value

446 Kcal,
14.9g fat,
6.8g saturated fat,
5.6g fiber,
33.1g protein,
41.2g carbs