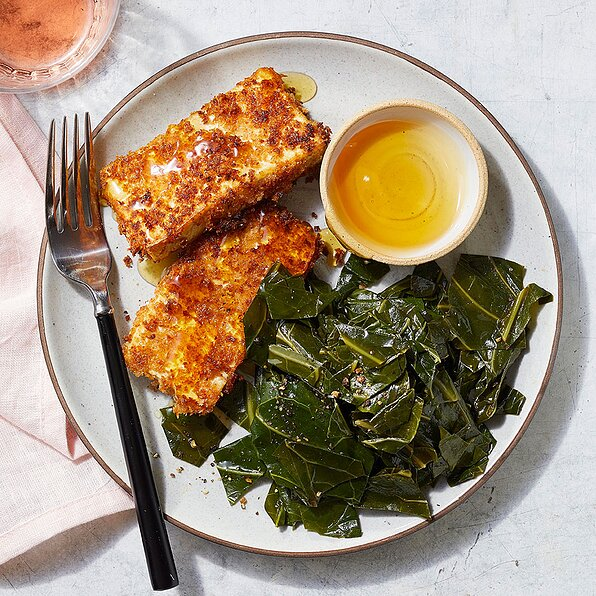 BUTTERMILK FRIED TOFU WITH SMOKY COLLARD GREENS
Dipping tofu in buttermilk makes the coating stick for a crispy pan-fried tofu, reminiscent of fried chicken.
MAKES 4 SERVING/ TOTAL TIME 25 MINUTES
INGREDIENTS
6 tablespoons grapeseed oil or canola oil, divided
1 (1 pound) package chopped collards
½ cup water
1 tablespoon cider vinegar
½ teaspoon smoked paprika
¾ teaspoon salt, divided
1 (14 to 16 ounce) package extra-firm tofu, drained
1 cup buttermilk
½ teaspoon garlic powder
½ teaspoon onion powder
¼ teaspoon cayenne pepper
1 cup whole-wheat panko
Hot (spicy) honey for serving
METHOD
Heat 1 tablespoon oil in a large pot over medium heat. Add collards and water; cover and cook, stirring occasionally, until soft and wilted, about 8 minutes. Remove from heat and stir in vinegar, paprika and 1/2 teaspoon salt. Cover to keep warm. Meanwhile, cut tofu crosswise into 8 equal pieces. Blot with paper towels to remove excess water. Whisk buttermilk, garlic powder, onion powder and cayenne in a 7-by-11-inch baking dish. Add the tofu and turn to coat. Let stand, turning once, for 5 minutes. Place panko on a plate. Dredge the tofu in the panko, coating both sides. Heat 3 tablespoons oil in a large nonstick skillet over medium-high heat. Add the tofu and cook until brown and crispy on one side, 4 to 5 minutes. Turn the tofu over and drizzle in the remaining 2 tablespoons oil. Cook until browned on the other side, about 4 minutes more. Sprinkle the tofu with the remaining 1/4 teaspoon salt and serve with the collards and hot honey, if desired.
Nutrition Value
366 Kcal,
26.9g fat,
3g saturated fat,
7g fiber,
16.5g protein,
20g carbs