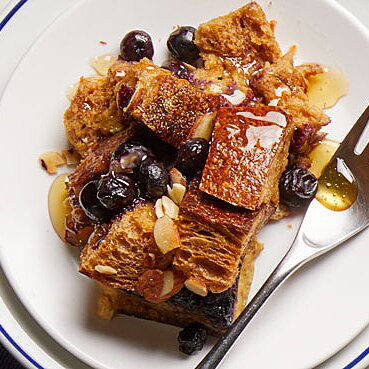 BLUEBERRY-ALMOND OVERNIGHT FRENCH TOAST
Pick your favorite table-worthy baking dish for this healthy French toast recipe--the breakfast casserole goes straight from the oven to the table. Serve with pure maple syrup.
MAKES 10 SERVING/ TOTAL TIME 9 HOUR 30 MINUTES
INGREDIENTS
1 pound whole-grain bread, diced (1-inch pieces)
3 cups blueberries, fresh or frozen
8 large eggs
3 ½ cups reduced-fat milk
½ cup (1 stick) unsalted butter, melted
3 tablespoons packed light brown sugar
1 tablespoon ground ginger
2 teaspoons vanilla extract
¼ teaspoon salt
¾ cup sliced almonds
METHOD

STEP 1

Coat a 9-by-13-inch baking dish with cooking spray.
Toss bread and blueberries in the prepared pan. Whisk eggs in a large bowl. Add milk, butter, brown sugar, ginger, vanilla and salt; whisk to combine. Pour the custard over the bread mixture. Sprinkle with almonds. Coat a piece of foil with cooking spray and cover the pan, coated-side down. Place another 9-by-13-inch baking dish on top as a weight. Refrigerate for at least 8 hours or up to 1 day.
STEP 2
Preheat oven to 350 degrees F. Remove the top baking dish, leaving the foil in place. Let stand at room temperature while the oven preheats. Bake the casserole, covered, for 45 minutes. Uncover and bake until golden, 20 to 25 minutes more. Let stand for 10 minutes before serving.
Nutrition Value

387 Kcal,
20.2g fat,
8.7g saturated fat,
5.4g fiber,
15.8g protein,
36.5g carbs