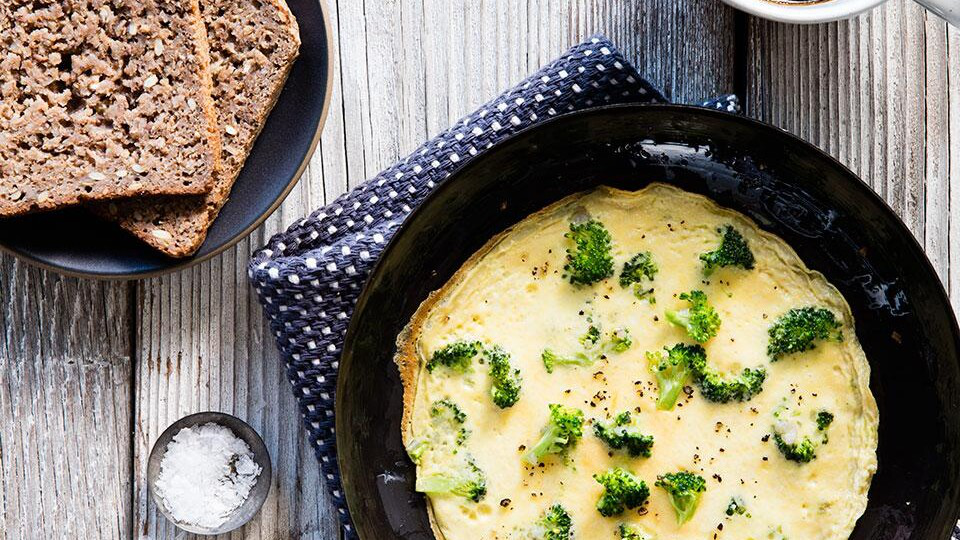 BROCCOLI & PARMESAN CHEESE OMELET
This high-protein breakfast recipe features broccoli and cheese folded into a light and fluffy omelet.
MAKES 1 SERVING/ TOTAL TIME 15 MINUTES
INGREDIENTS
2 large eggs
2 large egg whites
1 teaspoon extra-virgin olive oil
½ cup chopped broccoli
1 shallot, finely chopped
¼ cup finely grated Parmigiano-Reggiano cheese
1 slice sprouted-grain bread, toasted
METHOD

STEP 1

Whisk eggs and egg whites together in a small bowl; place near the stove.
STEP 2
Heat oil in a medium nonstick skillet over medium heat. Add broccoli and shallot; cook, stirring frequently, until tender, about 5 minutes. Pour the eggs into the pan, without stirring, and sprinkle cheese on top. Cover the pan and cook until the eggs are set, 3 to 4 minutes. Serve with toast.
Nutrition Value

407 Kcal,
20.4g fat,
7.3g saturated fat,
4.2g fiber,
32.9g protein,
22.1g carbs