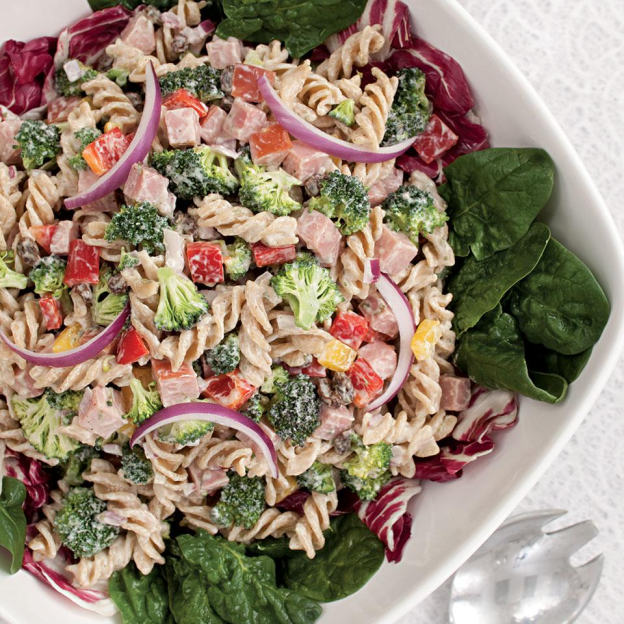 BROCCOLI, HAM & PASTA SALAD
A great make-ahead entree, this lightened-up pasta salad is loaded with broccoli and peppers. 
MAKES 5 SERVING/ TOTAL TIME 60 MINUTES
INGREDIENTS
Creamy Herbed Dressing
½ cup low-fat mayonnaise
⅓ cup nonfat plain yogurt
¼ cup reduced-fat sour cream
3 tablespoons rice vinegar or white-wine vinegar
1 tablespoon Dijon mustard
1 tablespoon honey, or more to taste
1 ½ teaspoons dried minced onion or dried chopped chives
1 ¼ teaspoons dried tarragon or dill
½ teaspoon onion salt or celery salt or 1/4 teaspoon of each
White pepper to taste
Salad
3 cups cooked whole-wheat fusilli or similar pasta (about 6 ounces dry)
4 cups chopped broccoli florets (about 1 1/2 large heads)
1 ½ cups diced ham (8 ounces), preferably reduced-sodium
1 large red or yellow bell pepper (or a combination), diced
¼ cup diced red onion, plus slices for garnish
⅓ cup raisins
Freshly ground pepper to taste
4 cups spinach leaves
1 cup torn radicchio leaves
METHOD

STEP 1

To prepare dressing: Combine mayonnaise, yogurt, sour cream, vinegar, mustard, honey, onion (or chives), tarragon (or dill) and onion salt (and/or celery salt) in a bowl until well blended. Season with white pepper. Taste and adjust seasonings, if desired.
STEP 2
To prepare salad: Combine pasta, broccoli, ham, bell pepper, diced onion and raisins in a large bowl. Add dressing and toss until evenly incorporated. Cover and refrigerate to blend the flavors for at least 30 minutes and up to 2 days.
STEP 3
Serve on a bed of spinach and radicchio, garnished with slices of red onion.
Nutrition Value
344 Kcal,
10.3g fat,
2.9g saturated fat,
5.6g fiber,
18.9g protein,
47.9g carbs