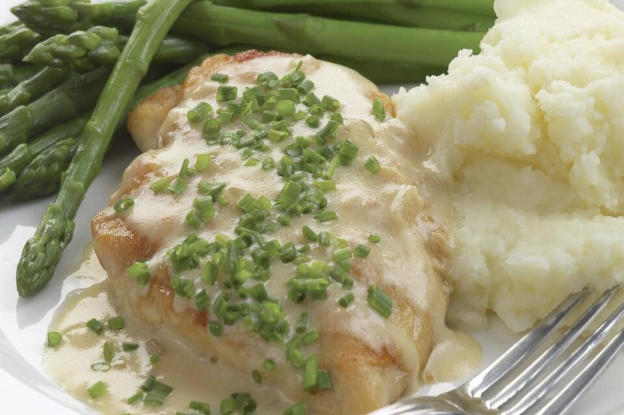 SAUTEED CHICKEN BREASTS WITH CREAMY CHIVE SAUCE
Here's a sauce so delicious, it's missing only one thing: a little crunchy bread to dip in it. 
MAKES 4 SERVING/ TOTAL TIME 35 MINUTES
INGREDIENTS
4 boneless, skinless chicken breasts, (about 1 pound), trimmed of fat
1 teaspoon kosher salt, divided
1/4 cup plus 1 tablespoon all-purpose flour, divided
3 teaspoons extra-virgin olive oil, divided
2 large shallots, finely chopped
½ cup dry white wine
1 14-ounce can reduced-sodium chicken broth

(Don't forget there is a difference between stock and broth, which can easily  change the end result, make sure you use chicken broth in this case. )
⅓ cup reduced-fat sour cream
1 tablespoon Dijon mustard
1/2 cup chopped chives, (about 1 bunch)
METHOD
Place chicken between sheets of plastic wrap and pound with a meat mallet or heavy skillet until flattened to an even thickness, about 1/2 inch. Season both sides of the chicken with 1/2 teaspoon salt. Place 1/4 cup flour in a shallow glass baking dish and dredge the chicken in it. Discard the excess flour. Heat 2 teaspoons oil in a large nonstick skillet over medium-high heat. Add the chicken and cook until golden brown, 1 to 2 minutes per side. Transfer to a plate, cover and keep warm. Heat the remaining 1 teaspoon oil in the pan over medium-high heat. Add shallots and cook, stirring constantly and scraping up any browned bits, until golden brown, 1 to 2 minutes. Add wine, broth and the remaining 1/2 teaspoon salt; bring to a boil, stirring often. Return the chicken and any accumulated juices to the pan, reduce heat to a simmer, and cook until heated through and no longer pink in the center, about 6 minutes. Stir in sour cream and mustard until smooth; turn the chicken to coat with the sauce.
Nutrition Value
257 Kcal,
8.7g fat,
2.8g saturated fat,
0.5g fiber,
26.3g protein,
11.8g carbs