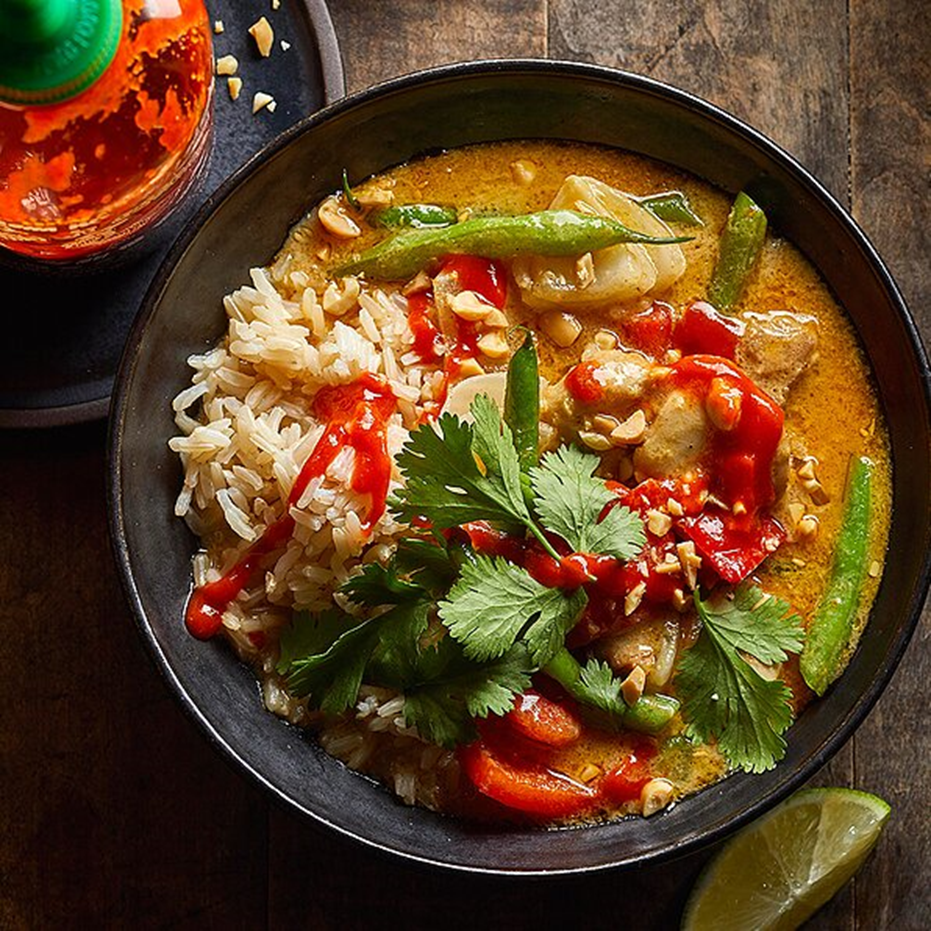 THAI YELLOW CHICKEN THIGH CURRY
Yellow curry paste is generally spicier than green but not as spicy as red, making it just right for this easy stir-fried chicken thigh recipe.
MAKES 4 SERVING/ TOTAL TIME 30 MINUTES
INGREDIENTS
2 cups water
1 cup basmati or jasmine rice
2 tablespoons Thai yellow curry paste
2 tablespoons peanut oil
1 pound boneless, skinless chicken thighs, cut into 1-inch pieces
4 cups green beans, trimmed and halved (about 12 ounces)
1 medium yellow onion, cut into 1-inch pieces
1 medium red bell pepper, cut into 1-inch pieces
1 (15 ounce) can unsweetened coconut milk
1 tablespoon fish sauce
¼ cup chopped fresh cilantro
¼ cup chopped, unsalted dry-roasted peanuts
1 lime, quartered
METHOD

STEP 1

Bring water to a boil in a large saucepan. Add rice, cover and reduce heat to low. Cook until the water is absorbed, about 20 minutes.
STEP 2
Meanwhile, whisk curry paste and oil in a large pot. Cook over medium-high heat, stirring, until it sizzles, 1 to 2 minutes. Add chicken and cook, stirring occasionally, until starting to brown, 3 to 5 minutes.
STEP 3
Add green beans, onion, bell pepper, coconut milk and fish sauce. Cover and bring to a boil. Reduce heat to a simmer, and cook, covered, until the chicken is cooked through and the vegetables are tender, 8 to 10 minutes.
Serve the curry over the rice, topped with cilantro, peanuts and lime wedges.
Nutrition Value
644 Kcal,
35.1g fat,
17.5g saturated fat,
5g fiber,
27g protein,
54.1g carbs