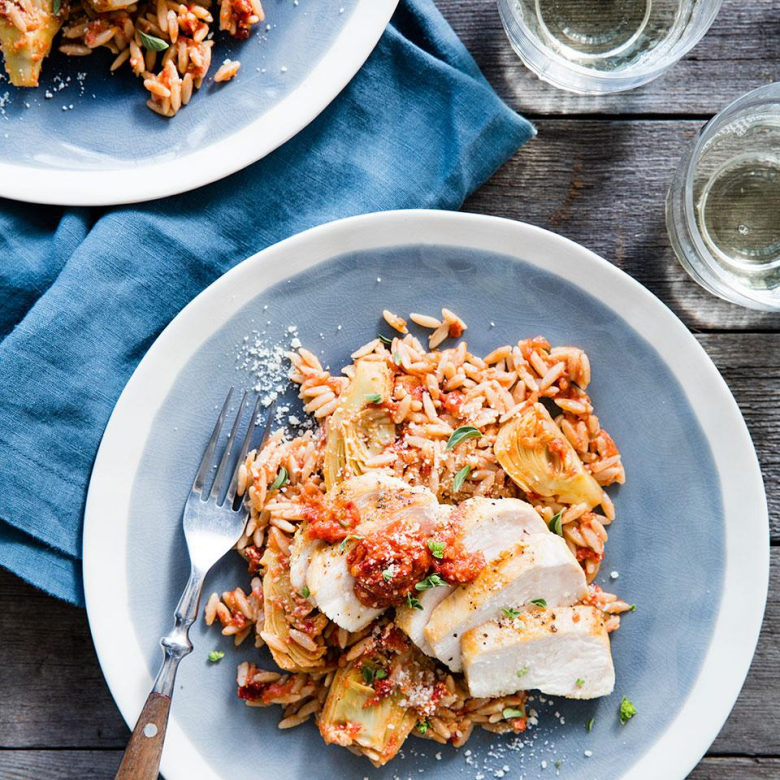 CHICKEN & SUN-DRIED TOMATO ORZO
Sun-dried tomatoes and Romano cheese pack a flavorful punch along with the tantalizing aroma of fresh marjoram in this rustic Italian-inspired dish.
MAKES 4 SERVING/ TOTAL TIME 30 MINUTES
INGREDIENTS
8 ounces orzo, preferably whole-wheat
1 cup water
1/2 cup chopped sun-dried tomatoes, (not oil-packed), divided
1 plum tomato, diced
1 clove garlic, peeled
3 teaspoons chopped fresh marjoram, divided
1 tablespoon red-wine vinegar
2 teaspoons plus 1 tablespoon extra-virgin olive oil, divided
4 boneless, skinless chicken breasts, trimmed (1-1 1/4 pounds)
¼ teaspoon salt
¼ teaspoon freshly ground pepper
1 9-ounce package frozen artichoke hearts, thawed
½ cup finely shredded Romano cheese, divided
METHOD
Cook orzo in a large saucepan of boiling water until just tender, 8 to 10 minutes or according to package directions. Drain and rinse. Meanwhile, place 1 cup water, 1/4 cup sun-dried tomatoes, plum tomato, garlic, 2 teaspoons marjoram, vinegar and 2 teaspoons oil in a blender. Blend until just a few chunks remain.
Season chicken with salt and pepper on both sides. Heat remaining 1 tablespoon oil in a large skillet over medium-high heat. Add the chicken and cook, adjusting the heat as necessary to prevent burning, until golden outside and no longer pink in the middle, 3 to 5 minutes per side. Transfer to a plate; tent with foil to keep warm. Pour the tomato sauce into the pan and bring to a boil. Measure out 1/2 cup sauce to a small bowl. Add the remaining 1/4 cup sun-dried tomatoes to the pan along with the orzo, artichoke hearts and 6 tablespoons cheese. Cook, stirring, until heated through, 1 to 2 minutes. Divide among 4 plates. Slice the chicken. Top each portion of pasta with sliced chicken, 2 tablespoons of the reserved tomato sauce and a sprinkling of the remaining cheese and marjoram.
Nutrition Value
 456 Kcal,
11.9g fat,
3.1g saturated fat,
10.2g fiber,
36.2g protein,
53.8g carbs