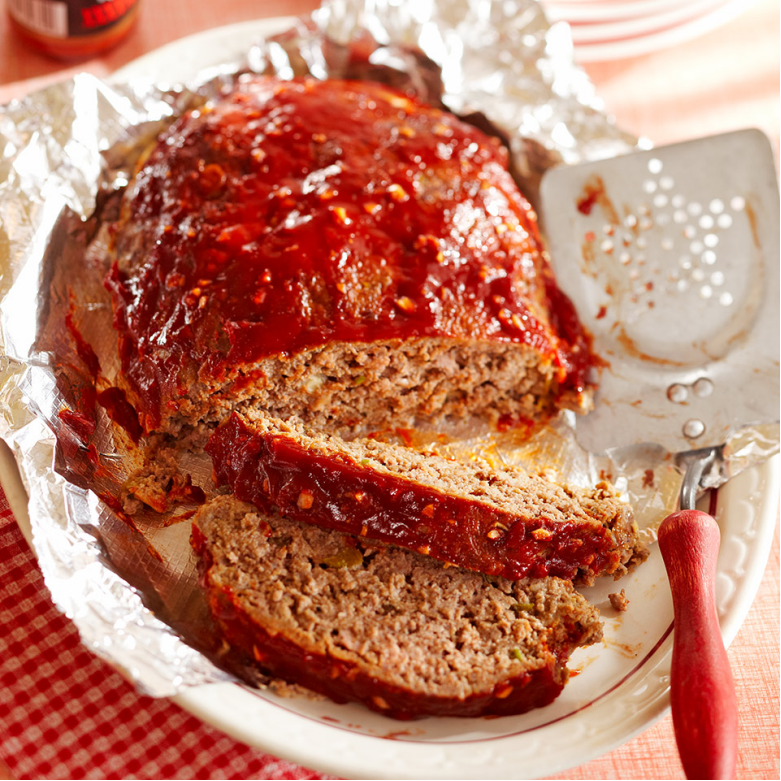 Here's a traditional recipe for a family favorite. Buy the leanest ground beef you can find for this home-style meat loaf.
MAKES 8 SERVING/ TOTAL TIME 1 HOUR 30 MINUTES
INGREDIENTS
⅔ cup fat-free milk
½ cup refrigerated or frozen egg product, thawed
2 cups soft whole wheat bread crumbs
2 green onions, thinly sliced
1 tablespoon Worcestershire sauce
1 teaspoon dried thyme or oregano, crushed
¼ teaspoon salt
⅛ teaspoon ground black pepper
1 ½ pounds 90% or higher lean ground beef
¼ cup ketchup
1 tablespoon balsamic vinegar
1 clove garlic, minced
METHOD

STEP 1

Preheat oven to 350 degrees F. Line a 2-quart rectangular baking dish with foil; set aside. In a large bowl, combine milk and egg. Stir in bread crumbs, green onion, Worcestershire sauce, thyme, salt, and pepper. Add ground beef; mix well. Shape meat mixture into an 8x5-inch rectangle in the prepared baking dish.
STEP 2
Bake for 50 minutes. Spoon off fat. Meanwhile, in a small bowl, combine ketchup, vinegar, and garlic. Spread over top of meat loaf. Bake about 10 minutes more or until meat is done (160 degrees F).

STEP 3
Let stand for 10 minutes before serving. Spoon off any fat. Cut into slices.
Nutrition Value
197 Kcal,
8.8g fat,
3.5g saturated fat,
0.7g fiber,
20.4g protein,
7.7g carbs