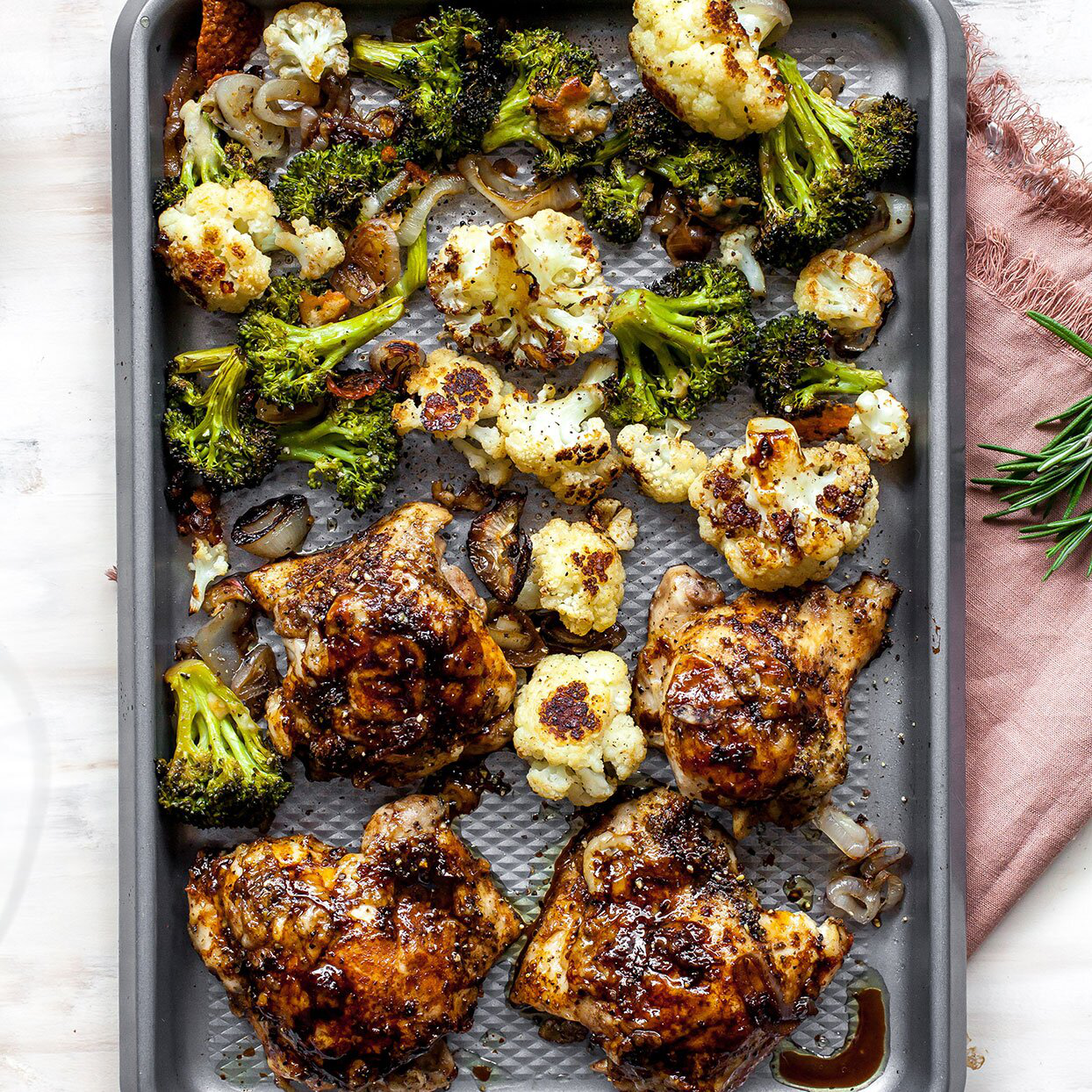 SHEET-PAN BALSAMIC-PARMESAN CHICKEN & VEGETABLES
This flavorful dish--with the combination of balsamic vinegar and Parmesan cheese--makes a great weeknight meal since it requires little legwork (and only one pan!).
MAKES 4 SERVING/ TOTAL TIME 45 MINUTES
INGREDIENTS
4 cups broccoli florets
3 cups cauliflower florets
1 cup sliced shallots
3 tablespoons extra-virgin olive oil, divided
½ teaspoon salt, divided
½ teaspoon ground pepper, divided
2 large cloves garlic, minced
1 teaspoon dried marjoram
4 large bone-in chicken thighs, skin removed if desired
3 tablespoons balsamic vinegar
⅓ cup grated Parmesan cheese
METHOD

STEP 1

Preheat oven to 450 degrees F. Coat a large rimmed baking sheet with cooking spray. Combine broccoli, cauliflower, shallots, 2 tablespoons oil, 1/4 teaspoon salt and 1/4 teaspoon pepper in a large bowl. Toss well to coat. Transfer to the prepared baking sheet.
STEP 2
Combine garlic, marjoram and the remaining 1 tablespoon oil and 1/4 teaspoon each salt and pepper in a small bowl. Coat both sides of the chicken with the garlic mixture. Place on the baking sheet. Roast the chicken and vegetables for 15 minutes. Toss the vegetables and drizzle the chicken with vinegar. Sprinkle all with Parmesan and continue roasting until the vegetables are tender and an instant-read thermometer inserted in the thickest part of the chicken without touching bone registers 165 degrees F, about 10 more minutes.
Nutrition Value

408 Kcal,
22g fat,
5.3g saturated fat,
4.7g fiber,
35.5g protein,
18g carbs