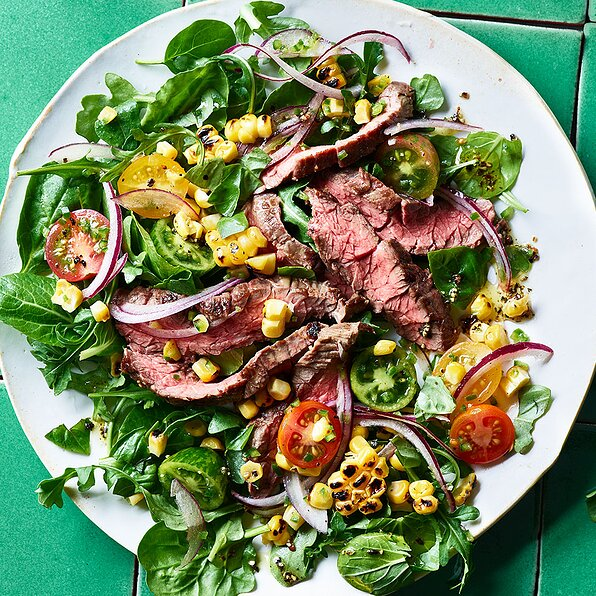 GRILLED SKIRT STEAK WITH CORN-TOMATO RELISH
Corn, tomato and basil scream summer, but simplicity makes this easy dinner recipe perfect for the season.
MAKES 4 SERVING/ TOTAL TIME 25 MINUTES
INGREDIENTS
1 pound skirt steak or sirloin steak
¾ teaspoon kosher salt, divided
¾ teaspoon ground pepper, divided
1 ear corn, husked
3 tablespoons extra-virgin olive oil, divided
½ cup halved cherry tomatoes
¼ cup thinly sliced red onion
2 tablespoons torn fresh basil
1 ½ tablespoons rice vinegar
1 serrano chile, seeded and minced
METHOD

STEP 1

Preheat grill to medium-high.
STEP 2
Sprinkle steak with 1/2 teaspoon each salt and pepper. Brush the steak and corn with 1 tablespoon oil.
STEP 3
Oil the grill rack . Grill the corn, turning occasionally, until lightly charred and tender, 8 to 10 minutes. Grill the steak, turning occasionally, to desired doneness, 6 to 8 minutes for medium-rare. Transfer the steak to a clean cutting board and let rest for 10 minutes.
STEP 4
Cut the kernels from the cob. Combine in a medium bowl with tomatoes, onion, basil, vinegar, chile, the remaining 2 tablespoons oil and 1/4 teaspoon each salt and pepper. Slice the steak thinly against the grain. Serve with the relish.
Nutrition Value
311 Kcal,
20.3g fat,
5.1g saturated fat,
1g fiber,
25.1g protein,
6.6g carbs