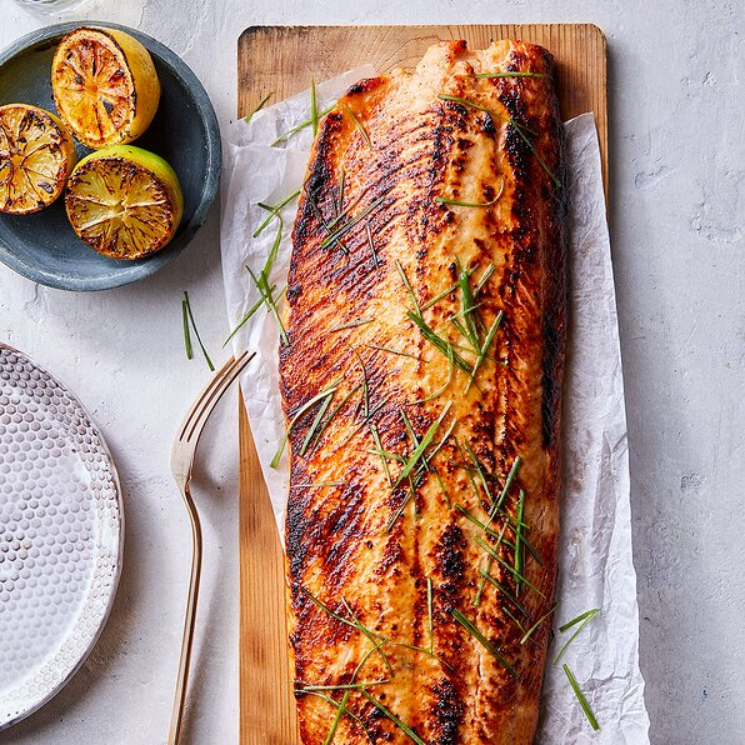 White miso paste packs an umami punch to this healthy salmon recipe.
MAKES 8 SERVING/ TOTAL TIME 15 MINUTES
INGREDIENTS
2 lemons
2 limes
¼ cup white miso
2 tablespoons extra-virgin olive oil
2 tablespoons maple syrup
¼ teaspoon ground pepper
Pinch of cayenne pepper
1 (2 1/2 pound) skin-on salmon fillet
Sliced scallions for garnish
METHOD

STEP 1

Position rack in upper third of oven; preheat broiler to high. Line a large rimmed baking sheet with foil.
STEP 2
Juice 1 lemon and 1 lime into a small bowl. Whisk in miso, oil, maple syrup, pepper and cayenne. Place salmon, skin-side down, on the prepared pan and spread the miso mixture on top. Halve the remaining lemon and lime and arrange around the salmon, cut-sides up.

STEP 3
Broil the salmon just until it flakes with a fork, 7 to 12 minutes. Serve with the lemon and lime halves and sprinkle with scallions, if desired.
Nutrition Value
230 Kcal,
8.7g fat,
1.8g saturated fat,
0.1g fiber,
28.3g protein,
6.7g carbs