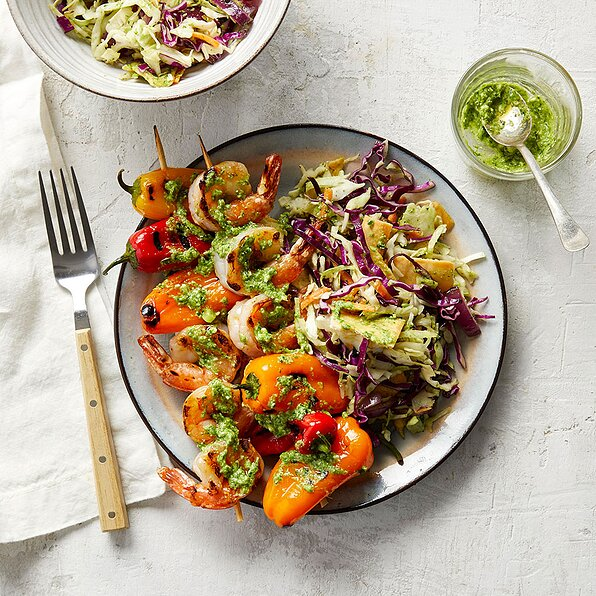 SHRIMP & PEPPER KEBABS WITH GRILLED RED ONION SLAW
These healthy grilled shrimp and mini bell pepper kebabs come together in just 30 minutes, so they're great for weeknight dinners.
MAKES 4 SERVING/ TOTAL TIME 30 MINUTES
INGREDIENTS
½ cup chopped fresh parsley
⅓ cup chopped scallions
⅓ cup crumbled feta cheese
3 tablespoons red-wine vinegar
⅓ cup canola oil plus 1 tablespoon, divided
1 pound raw shrimp (21-25 count), peeled and deveined
24 mini bell peppers (15 ounces)
1 small red onion, cut into quarters
1 (10 ounce) package coleslaw mix (with carrots and red cabbage)
1 ½ cups pita chips, crushed
METHOD

STEP 1

Preheat grill to medium-high.  Place parsley, scallions, feta, vinegar and 1/3 cup oil in a mini food processor; blend until mostly smooth. Set aside. Thread 3 shrimp and 3 mini peppers on each of 8 bamboo skewers. Brush the kebabs and onion with the remaining 1 tablespoon oil. Grill the kebabs until the shrimp turn pink and are opaque in the center and the peppers are lightly charred, about 3 minutes per side. Grill the onion wedges until slightly softened and charred, 2 to 3 minutes per side. Remove from the grill.
STEP 2
Reserve 1/4 cup of the dressing. Combine slaw mix, pita chips and the remaining dressing in a large bowl. When the onion is cool enough to handle, thinly slice and toss with the slaw mixture. Serve the slaw and kebabs with the reserved dressing.
Nutrition Value
442 Kcal,
27.6g fat,
3.8g saturated fat,
4.1g fiber,
28.2g protein,
21.4g carbs