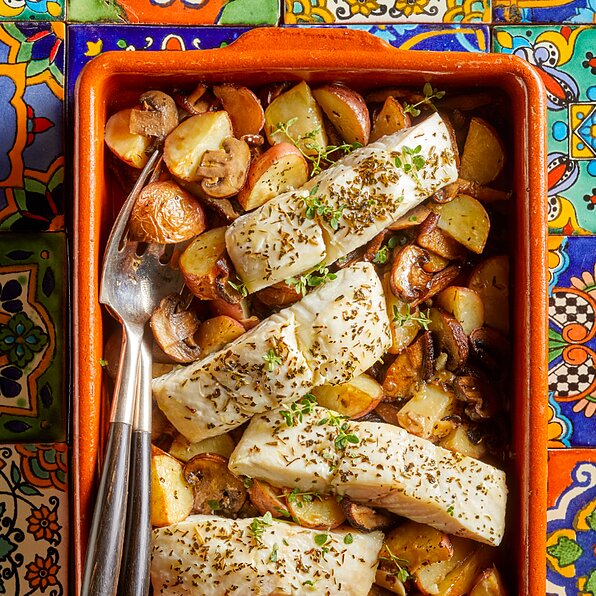 PROVENÇAL BAKED FISH WITH ROASTED POTATOES & MUSHROOMS
This easy healthy meal--which requires just 15 minutes of active time--is typical of southern France.
MAKES 4 SERVING/ TOTAL TIME 60 MINUTES
INGREDIENTS
1 pound Yukon Gold or red potatoes, cubed
1 pound mushrooms (shiitake, cremini, oyster or other fresh mushrooms), trimmed and sliced
2 tablespoons extra-virgin olive oil, divided
¼ teaspoon salt
¼ teaspoon ground pepper
2 cloves garlic, peeled and sliced
14 ounces halibut, grouper or cod fillet, cut into 4 portions
4 tablespoons lemon juice
1 teaspoon herbes de Provence
Fresh thyme for garnish
METHOD

STEP 1

Preheat oven to 425 degrees F.
STEP 2
Toss potatoes, mushrooms, 1 Tbsp. oil, salt, and pepper in a large bowl. Transfer to a 9x13-inch baking dish. Roast until the vegetables are just tender, 30 to 40 minutes.
STEP 3
Stir the vegetables, then stir in garlic. Place fish on top. Drizzle with lemon juice and the remaining 1 Tbsp. oil. Sprinkle with herbes de Provence. Bake until the fish is opaque in the center and flakes easily, 10 to 15 minutes. Garnish with thyme, if desired.
Nutrition Value
276 Kcal,
8.8g fat,
1.3g saturated fat,
2.8g fiber,
24.4g protein,
25.3g carbs