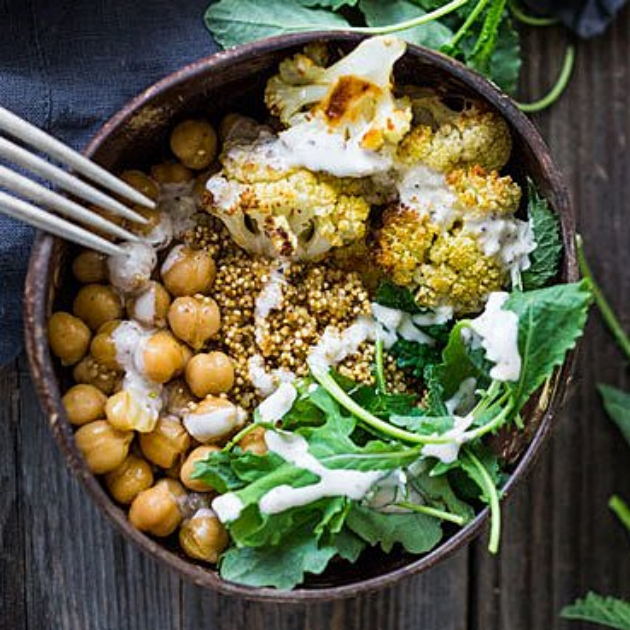 GRAIN BOWL WITH CHICKPEAS & CAULIFLOWER
This beautiful grain bowl is packed with healthy ingredients like quinoa, chickpeas, kale and cauliflower--all drizzled with a lemony tahini sauce. 
MAKES 1 SERVING/ TOTAL TIME 25 MINUTES
INGREDIENTS
1 cup small cauliflower florets
1 teaspoon extra-virgin olive oil
½ teaspoon ground cumin
¼ teaspoon salt, divided
3 tablespoons hot tap water
2 tablespoons tahini
1 tablespoon lemon juice
1 clove garlic, minced
1 teaspoon za'atar
1 ½ cups baby kale
½ cup cooked quinoa
½ cup canned chickpeas, rinsed
METHOD

STEP 1

Preheat oven to 425 degrees F.
STEP 2
Toss cauliflower with oil, cumin and 1/8 teaspoon salt in a medium bowl. Transfer to a small baking dish; roast until the cauliflower is tender, 12 to 15 minutes.
STEP 3
Meanwhile, whisk water, tahini, lemon juice, garlic, za'atar and the remaining 1/8 teaspoon salt in a small bowl.
STEP 4
Place kale in the bottom of a shallow serving bowl. Top with cauliflower, quinoa and chickpeas; drizzle with 2 tablespoons of the dressing
Nutrition Value
501 Kcal,
24.6g fat,
3.3g saturated fat,
12.4g fiber,
19.8g protein,
54.9g carbs