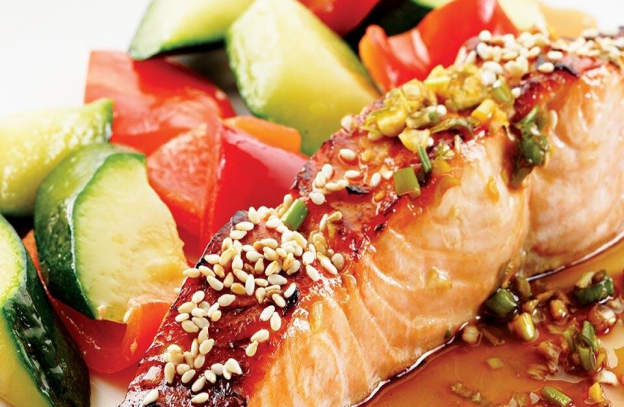 A sweet, tangy and salty mixture of soy sauce, rice vinegar and honey does double-duty as marinade and sauce.
MAKES 4 SERVING/ TOTAL TIME 40 MINUTES
INGREDIENTS
1 scallion, minced
2 tablespoons reduced-sodium soy sauce
1 tablespoon rice vinegar
1 tablespoon honey
1 teaspoon minced fresh ginger
1 pound center-cut salmon fillet, skinned and cut into 4 portions
1 teaspoon toasted sesame seeds,
METHOD

STEP 1

Whisk scallion, soy sauce, vinegar, honey and ginger in a medium bowl until the honey is dissolved. Place salmon in a sealable plastic bag, add 3 tablespoons of the sauce and refrigerate; let marinate for 15 minutes. Reserve the remaining sauce.
STEP 2
Preheat broiler. Line a small baking pan with foil and coat with cooking spray.
STEP 3
Transfer the salmon to the pan, skinned-side down. (Discard the marinade.) Broil the salmon 4 to 6 inches from the heat source until cooked through, 6 to 10 minutes. Drizzle with the reserved sauce and garnish with sesame seeds.
Nutrition Value
160 Kcal,
4.5g fat,
1.1g saturated fat,
0.3g fiber,
23.2g protein,
5.6g carbs