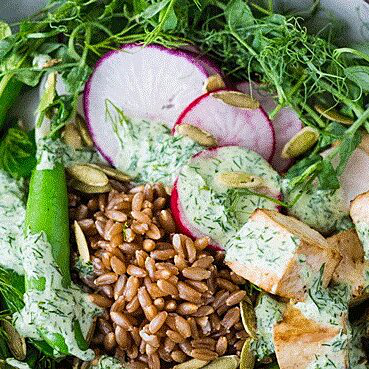 This healthy grain bowl packs in the greens with peas, asparagus and a creamy yogurt dressing.
MAKES 1 SERVING/ TOTAL TIME 15 MINUTES
INGREDIENTS
½ cup snap or snow peas, trimmed
4 spears asparagus, tough ends removed, cut into 2-inch pieces
½ cup plain whole-milk yogurt
¼ cup chopped fresh dill
1 tablespoon lemon juice
1 tablespoon extra-virgin olive oil
1 clove garlic, minced
¼ teaspoon kosher salt
½ cup cooked farro
4 ounces baked tofu, cubed
3 radishes, sliced
1 tablespoon Toasted pumpkin seeds for garnish
METHOD

STEP 1

Bring a medium pot of water to a boil. Add snap (or snow) peas and asparagus; cook until just tender, about 2 minutes. Rinse under cold water.
STEP 2
Whisk yogurt, dill, lemon juice, oil, garlic and salt together in a small bowl.
STEP 3
Place farro in a shallow serving bowl. Top with peas, asparagus, tofu and radishes. Drizzle 2 tablespoons of the dressing on top (save extra for other use). Sprinkle with pumpkin seeds, if desired.
Nutrition Value

 553 Kcal,
25.7g fat,
5.6g saturated fat,
8.4g fiber,
28.8g protein,
56.3g carbs