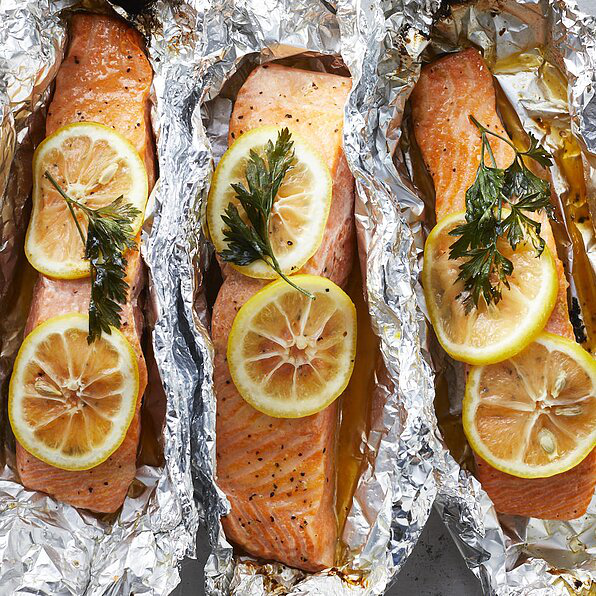 GRILLED LEMON-PEPPER SALMON IN FOIL
We're willing to bet that this easy grilled salmon in foil recipe will become a regular in your weeknight dinner rotation.
MAKES 4 SERVING/ TOTAL TIME 25 MINUTES
INGREDIENTS
4 (6 ounce) skin-on salmon fillets
2 tablespoons unsalted butter
1 teaspoon lemon pepper
½ teaspoon salt
8 thin slices lemon (from 1 lemon)
4 sprigs flat-leaf parsley
METHOD

STEP 1

Preheat grill to medium-high (400-450 degrees F). Place 4 (12-inch) foil squares in a single layer on a work surface; coat with cooking spray. Place 1 salmon fillet, skin-side down, in the center of each. Top each fillet with 1 1/2 teaspoons butter, 1/4 teaspoon lemon pepper, 1/8 teaspoon salt, 2 lemon slices and 1 parsley sprig. Crimp the sides of each foil packet together to tightly seal. Place the packets on the grill; cover and grill until the fish flakes easily with a fork, 8 to 10 minutes.
Nutrition Value

256 Kcal,
12g fat,
5.1g saturated fat,
0.5g fiber,
34g protein,
1.3g carbs