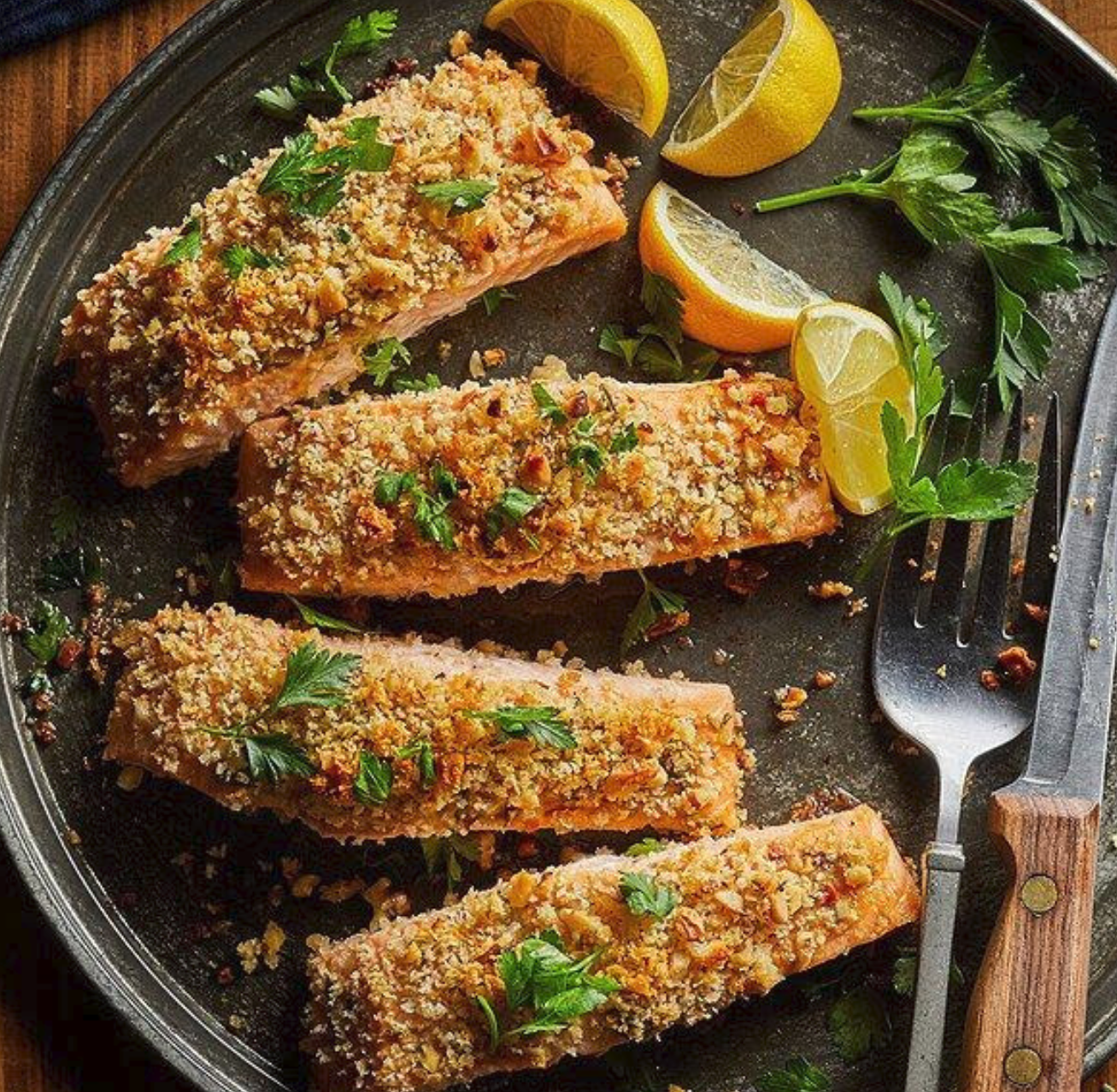 High Protein Meal Ideas - WALNUT-ROSEMARY CRUSTED SALMON
Salmon and walnuts are both great sources of omega-3 fatty acids. Pair this easy salmon recipe with a simple salad and a side of roasted potatoes or quinoa.

MAKES 4 SERVING
TOTAL TIME 20 MINUTE
INGREDIENTS
2 teaspoons Dijon mustard
1 clove garlic, minced
¼ teaspoon lemon zest
1 teaspoon lemon juice
1 teaspoon chopped fresh rosemary
½ teaspoon honey
½ teaspoon kosher salt
¼ teaspoon crushed red pepper
3 tablespoons panko breadcrumbs
3 tablespoons finely chopped walnuts
1 teaspoon extra-virgin olive oil
1 (1 pound) skinless salmon fillet, fresh or frozen
Olive oil cooking spray
METHOD
STEP 1
Preheat oven to 425 degrees F. Line a large rimmed baking sheet with parchment paper.
STEP 2
Combine mustard, garlic, lemon zest, lemon juice, rosemary, honey, salt and crushed red pepper in a small bowl. Combine panko, walnuts and oil in another small bowl.
STEP 3
Place salmon on the prepared baking sheet. Spread the mustard mixture over the fish and sprinkle with the panko mixture, pressing to adhere. Lightly coat with cooking spray.
STEP 4
Bake until the fish flakes easily with a fork, about 8 to 12 minutes, depending on thickness. Sprinkle with parsley and serve with lemon wedges, if desired
NUTRITION INFORMATION:
222 Kcal
12g fat
2g saturated fat
18g fiber 
24g protein
4g carbs