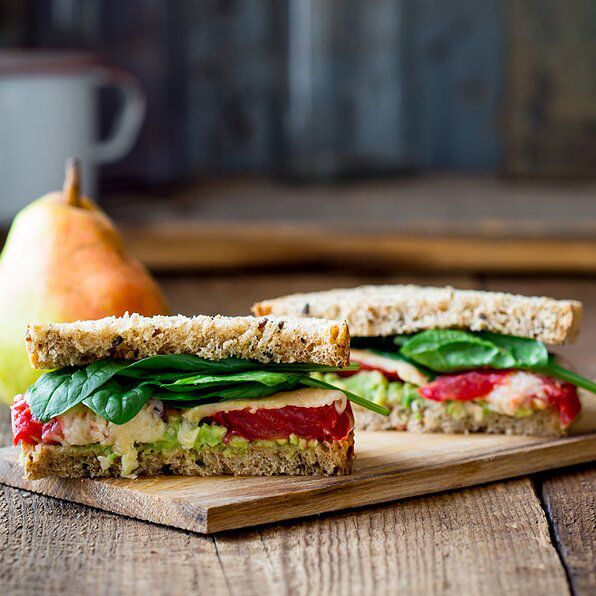 TOMATO-&-AVOCADO CHEESE SANDWICH
Parmesan cheese is such a bold flavor, you only need 1/4 cup to add a big punch to this vegetarian toaster-oven sandwich.
MAKES 1 SERVING/ TOTAL TIME 15 MINUTE
INGREDIENTS
2 slices whole-wheat bread
¼ avocado, mashed
3 slices tomato
¼ cup grated Parmesan cheese
1 cup mixed salad greens or baby spinach
2 teaspoons balsamic vinegar
1 medium ripe pear
METHOD

STEP 1

Lay bread on work surface. Spread avocado on one slice. Top with tomatoes and sprinkle with cheese. Toast both pieces of bread in a toaster oven until the plain piece is toasted and the cheese is starting to melt on the topped piece, 4 to 6 minutes.
STEP 2
Remove the toast from the toaster oven with a spatula, and mound greens (or spinach) on top of the cheese side. Drizzle with vinegar and top with the remaining toast. Cut in half if desired and serve with pear.
Nutrition Value

 439 Kcal,
15.3g fat,
5g saturated fat,
14.4g fiber,
17.8g protein,
53.6g carbs