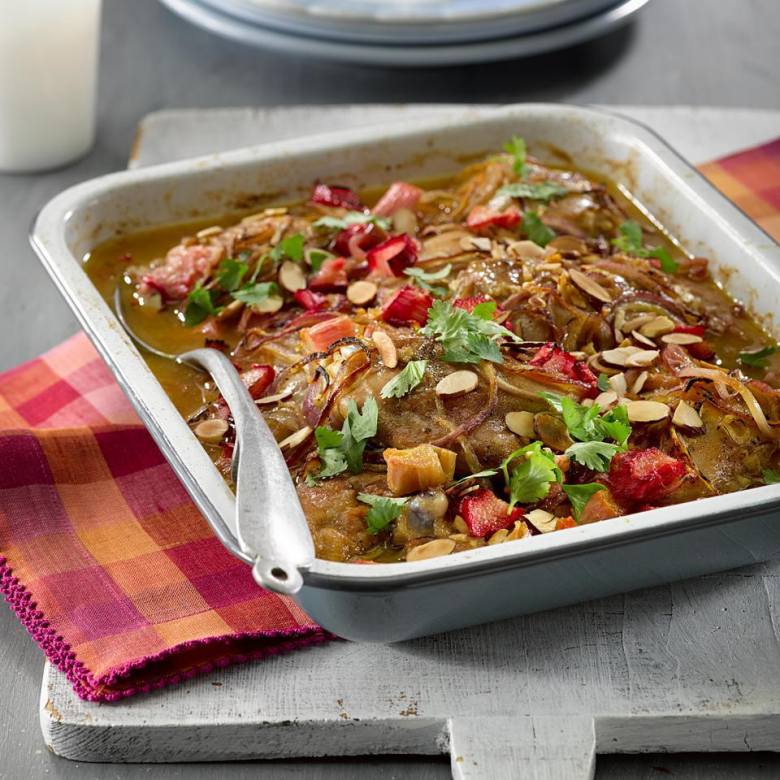 RHUBARB, GINGER & SAFFRON BAKED CHICKEN
This easy baked chicken recipe is perfect for entertaining because you can mix most of the ingredients together ahead of time.
MAKES 4 SERVING/ TOTAL TIME 60 MINUTES
INGREDIENTS
2 ½ cups sliced rhubarb (1/2 inch),
2 cups thinly sliced red onion
3 tablespoons chopped peeled fresh ginger
2 cloves garlic, chopped
2 tablespoons extra-virgin olive oil
1 teaspoon kosher salt
1 teaspoon ground pepper
1 teaspoon ground ginger
½ teaspoon ground cinnamon
Big pinch of saffron
8 small chicken thighs
¼ cup white wine
⅓ cup packed light brown sugar
¼ cup sliced almonds, toasted
¼ cup coarsely chopped fresh cilantro
METHOD

STEP 1

Preheat oven to 350 degrees F.
STEP 2
Combine rhubarb, onion, fresh ginger, garlic, oil, salt, pepper, ground ginger, cinnamon and saffron in a large bowl. Add chicken and mix thoroughly.

STEP 3
Transfer the mixture to a 9-by-13-inch baking dish, keeping the chicken in a single layer. Add wine and sprinkle with brown sugar.
STEP 3
Bake the chicken, basting once or twice, until an -instant-read thermometer inserted into the thickest part without touching bone registers 165 degrees F, 50 minutes to 1 hour. Serve sprinkled with almonds and cilantro.
Nutrition Value
515 Kcal,
24.6g fat,
5.3g saturated fat,
3.6g fiber,
39.8g protein,
30.8g carbs