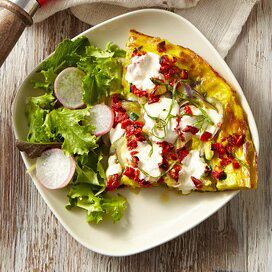 MOZZARELLA, BASIL & ZUCCHINI FRITTATA
This vegetable-studded frittata recipe is one of the quickest meals you can make.
MAKES 4 SERVINGS/ TOTAL TIME 20 MINUTE
INGREDIENTS
2 tablespoons extra-virgin olive oil
1 ½ cups thinly sliced red onion
1 ½ cups chopped zucchini
7 large eggs, beaten
½ teaspoon salt
¼ teaspoon freshly ground pepper
⅔ cup pearl-size or baby fresh mozzarella balls (about 4 ounces)
3 tablespoons chopped soft sun-dried tomatoes
¼ cup thinly sliced fresh basil
METHODSTEP 1
Position rack in upper third of oven; preheat broiler.
Heat oil in a large broiler-safe nonstick or cast-iron skillet over medium-high heat. Add onion and zucchini and cook, stirring frequently, until soft, 3 to 5 minutes.
STEP 2
Meanwhile, whisk eggs, salt and pepper in a bowl. Pour the eggs over the vegetables in the pan. Cook, lifting the edges to allow uncooked egg from the middle to flow underneath, until nearly set, about 2 minutes. Arrange mozzarella and sun-dried tomatoes on top and place the skillet under the broiler until the eggs are slightly browned, 1 1/2 to 2 minutes. Let stand for 3 minutes. Top with basil. To release the frittata from the pan, run a spatula around the edge, then underneath, until you can slide or lift it out onto a cutting board or serving plate. Cut into 4 slices and serve.
Nutrition Value
292 Kcal,
20.7g fat,
6.8g saturated fat,
1.6g fiber,
17.6g protein,
7.8g carbs