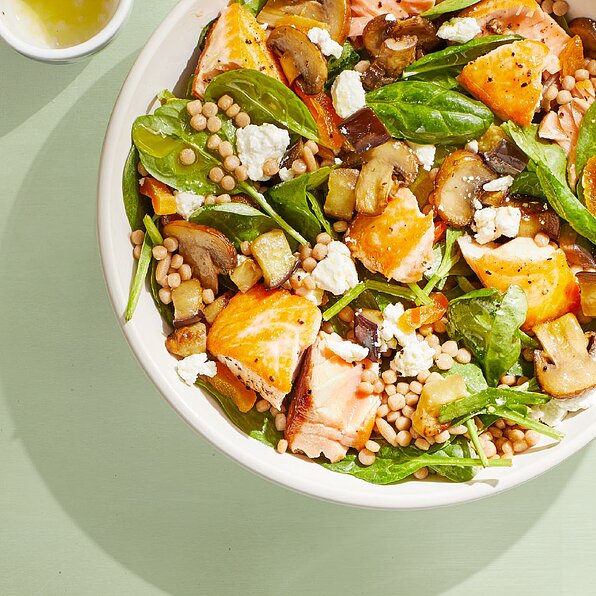 This healthy and easy salad is designed to be made with precooked or leftover salmon. 
MAKES 1 SERVING/ TOTAL TIME 10 MINUTES
INGREDIENTS
¼ cup sliced cremini mushrooms
¼ cup diced eggplant
3 cups baby spinach
2 tablespoons white-wine vinaigrette, divided
¼ cup cooked Israeli couscous, preferably whole-wheat
4 ounces cooked salmon
¼ cup sliced dried apricots
2 tablespoons crumbled goat cheese (1/2 ounce)
METHOD

STEP 1

Coat a small skillet with cooking spray and heat over medium-high heat. Add mushrooms and eggplant; cook, stirring, until lightly browned and juices have been released, 3 to 5 minutes. Remove from heat and set aside.
STEP 2
Toss spinach with 1 Tbsp. plus 1 tsp. vinaigrette and place on a 9-inch plate.
STEP 3
Toss couscous with the remaining 2 tsp. vinaigrette and place on top of the spinach. Place salmon on top. Top with the cooked vegetables, dried apricots, and goat cheese.
Nutrition Value
464 Kcal,
22.1g fat,
5.2g saturated fat,
5.9g fiber,
34.8g protein,
34.7g carbs