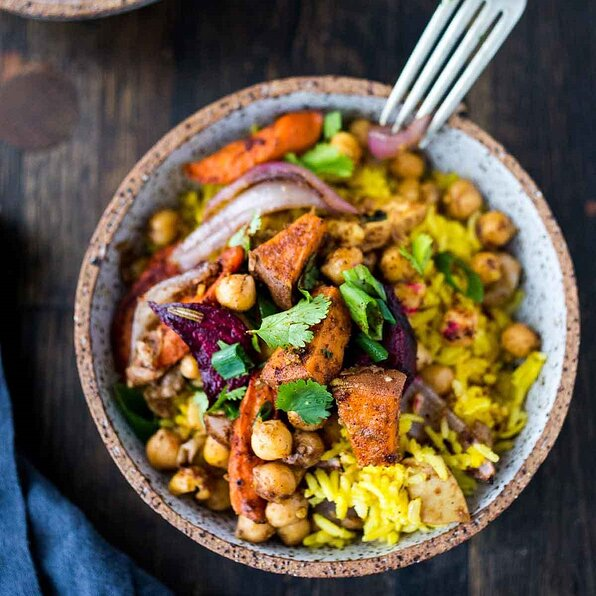 TURMERIC RICE BOWL WITH GARAM MASALA ROOT VEGETABLES & CHICKPEAS
This fragrant turmeric rice bowl topped with leftover spiced roasted root vegetables and chickpeas is inspired by flavors from India for an easy, vegetarian dinner.
MAKES 2 SERVING/ TOTAL TIME 50 MINUTES
INGREDIENTS
Rice
1 ¼ cups water
½ cup brown basmati rice
¼ cup raisins
1 teaspoon extra-virgin olive oil
1 teaspoon onion powder
½ teaspoon ground turmeric or 1 teaspoon freshly grated turmeric
¼ teaspoon ground cinnamon
¼ teaspoon ground black pepper
⅛ teaspoon kosher salt
Vegetables & Chickpeas
2 tablespoons coconut oil or ghee
1 (15 ounce) can chickpeas, rinsed and patted dry
1 teaspoon garam masala or Indian curry powder
1 cup roasted root vegetables
1 teaspoon sugar or honey
¼ teaspoon kosher salt
¼ teaspoon ground pepper
2 tablespoons lemon juice
2 tablespoons low-fat plain yogurt
METHOD

STEP 1

To prepare rice: Combine water, rice, raisins, olive oil, onion powder (or garlic powder), turmeric, cinnamon, pepper and 1/8 teaspoon salt in a small saucepan. Bring to a boil. Cover, reduce heat to maintain a gentle simmer and cook until the liquid is absorbed, 35 to 40 minutes. Remove from heat and let stand, covered, for 10 minutes. Meanwhile, to prepare vegetables & chickpeas: Heat coconut oil (or ghee) in a medium skillet over medium heat. Add chickpeas and cook, stirring, until crispy, 3 to 5 minutes. Stir in garam masala (or curry powder) and cook until fragrant, about 1 minute. Add roasted root vegetables, sugar (or honey), salt and pepper; cook, stirring often, until heated through, 2 to 4 minutes. Stir in lemon juice.
Serve the vegetable mixture over the rice, topped with yogurt (or tahini). Garnish with herbs, if desired.
Nutrition Value
671 Kcal,
23g fat,
12.9g saturated fat,
14.4g fiber,
15.9g protein,
107g carbs