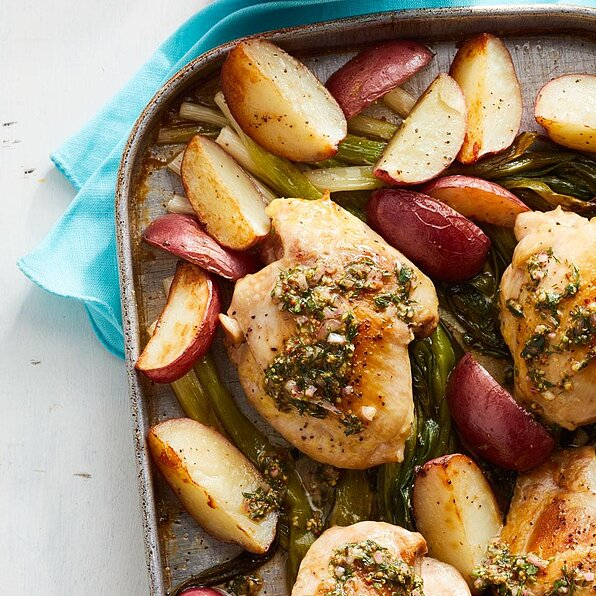 ROASTED CHICKEN THIGHS, POTATOES & SCALLIONS WITH HERB VINAIGRETTE
Roasting chicken thighs directly on top of the vegetables bastes the scallions and potatoes with delicious drippings in this healthy dinner recipe. 
MAKES 4 SERVING/ TOTAL TIME 30 MINUTES
INGREDIENTS
12 ounces new potatoes, quartered
2 bunches scallions, trimmed
4 tablespoons extra-virgin olive oil, divided
¾ teaspoon ground pepper, divided
½ teaspoon salt, divided
4 large boneless, skinless chicken thighs (1-1 1/4 pounds), trimmed
2 tablespoons sherry vinegar
2 tablespoons chopped fresh herbs, such as dill, thyme and/or parsley
1 tablespoon whole-grain mustard
1 tablespoon finely chopped shallot
METHOD

STEP 1

Preheat oven to 450 degrees F.
STEP 2
Toss potatoes and scallions with 4 teaspoons oil and 1/4 teaspoon each pepper and salt in a large bowl. Spread evenly on a large rimmed baking sheet. Place chicken on top; drizzle with 2 teaspoons oil and sprinkle with 1/4 teaspoon each pepper and salt. Roast until an instant-read thermometer inserted into the thickest part registers 165 degrees F and the potatoes are tender, 18 to 20 minutes.
STEP 3
Meanwhile, whisk the remaining 2 tablespoons oil and 1/4 teaspoon pepper with vinegar, herbs, mustard and shallot in a small bowl. Serve drizzled over the chicken and vegetables.
Nutrition Value
353 Kcal,
21g fat,
3.8g saturated fat,
2.8g fiber,
22g protein,
17.7g carbs