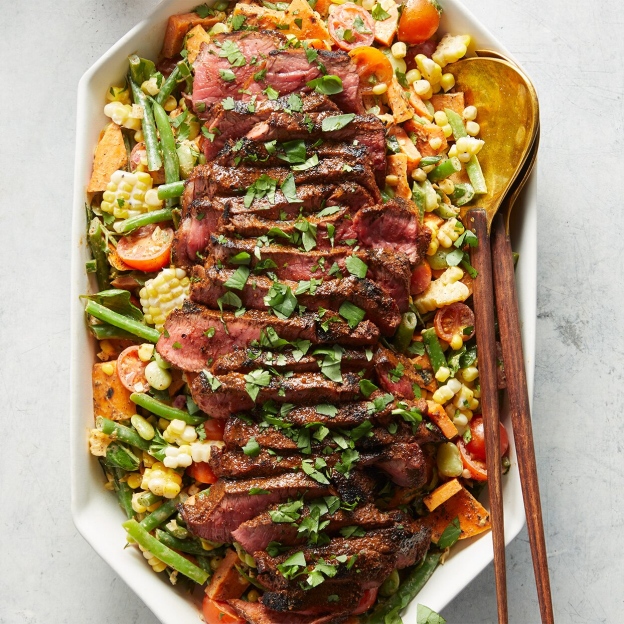 SUCCOTASH SALAD WITH GRILLED SIRLOIN
A summer salad through and through! Grilled sweet potatoes and grilled sirloin steak add just enough smokiness without overpowering all of the fresh flavors, while a creamy lime dressing brings everything together.
MAKES 4 SERVING/ TOTAL TIME 60 MINUTES
INGREDIENTS
2 cups green beans, trimmed and cut into 1-inch pieces
2 ears corn, shucked
½ cup whole-milk plain Greek yogurt
3 tablespoons fresh lime juice
2 tablespoons minced red onion
2 tablespoons olive oil, divided
2 teaspoons honey
1 ½ teaspoons minced garlic
1 ¼ teaspoons ground pepper, divided
1 teaspoon salt, divided
1 tablespoon chili powder
1 tablespoon ground cumin
2 teaspoons garlic powder
1 pound sweet potatoes (2 medium), peeled and cut into 1/4-inch planks
1 pound top sirloin steak, trimmed
1 cup halved cherry tomatoes
1 cup frozen lima beans, thawed
¼ cup chopped fresh basil
¼ cup chopped fresh cilantro
1 jalapeño pepper, seeded and minced
METHOD
Bring 3/4 cup water to a boil in a large skillet over medium-high heat. Add green beans; cover, reduce heat to medium-low and steam for 5 minutes. Drain and transfer to a large bowl. Fill the now-empty skillet with 2 inches of water and bring to a boil. Add corn to the boiling water; cover, turn off heat, and steam for 8 minutes. Cut the kernels from the cobs and transfer to the bowl with the green beans. Meanwhile, whisk yogurt, lime juice, onion, 1 Tbsp. oil, honey, garlic, and 1/4 tsp. each pepper and salt in a small bowl. Combine chili powder, cumin, garlic powder, and the remaining 1 tsp. ground pepper and 3/4 tsp. salt in a small bowl. Preheat grill to medium-high Grill the sweet potatoes until fork-tender, 3 to 5 minutes per side.
Add the sweet potatoes to the bowl with the green beans and corn. Divide the steak among the plates and drizzle with the remaining 1/4 cup yogurt dressing.
Nutrition Value
430 Kcal,
14g fat,
9g saturated fat,
9g fiber,
33g protein,
46g carbs