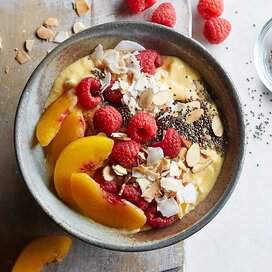 RASPBERRY-PEACH-MANGO SMOOTHIE BOWL
This healthy smoothie recipe is a gateway to the smoothie-bowl craze.
MAKES 1 SERVING/ TOTAL TIME 10 MINUTE
INGREDIENTS
1 cup frozen mango chunks
¾ cup nonfat plain Greek yogurt
¼ cup reduced-fat milk
1 teaspoon vanilla extract
¼ ripe peach, sliced
⅓ cup raspberries
1 tablespoon sliced almonds, toasted if desired
1 tablespoon unsweetened coconut flakes, toasted if desired
1 teaspoon chia seeds
METHOD

STEP 1
Combine mango, yogurt, milk and vanilla in a blender. Puree until smooth.
STEP 2
Pour the smoothie into a bowl and top with peach slices, raspberries, almonds, coconut and chia seeds to taste.
Nutrition Value
352 Kcal,
9.3g fat,
3.7g saturated fat,
8.2g fiber,
23.4g protein,
46.4g carbs