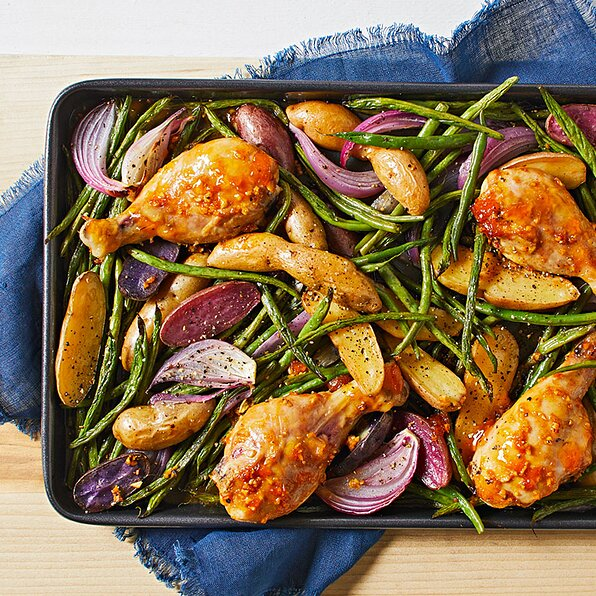 SHEET-PAN ORANGE-APRICOT DRUMSTICKS
In this easy sheet-pan dinner, a sweet-and-savory glaze and a colorful medley of vegetables transform ordinary drumsticks into a satisfying meal.
MAKES 4 SERVING/ TOTAL TIME 60 MINUTES
INGREDIENTS
1 pound multicolor fingerling potatoes, halved lengthwise
1 pound green beans, trimmed
1 cup thinly sliced red onion
2 tablespoons olive oil
¾ teaspoon kosher salt, divided
½ teaspoon ground pepper, divided
4 large chicken drumsticks (1 1/2-2 lbs. total), skin removed
1 orange
3 tablespoons apricot preserves
1 tablespoon reduced-sodium soy sauce or tamari
3 cloves garlic, minced
METHOD

STEP 1

Preheat oven to 425 degrees F. Place potatoes, green beans and onion on a large rimmed baking sheet. Drizzle with oil and sprinkle with 1/2 tsp. salt and 1/4 tsp. pepper. Nestle chicken into the vegetables.
STEP 2
Grate 1/2 tsp. zest from orange and squeeze it to get 2 Tbsp. juice. Combine the zest and juice, preserves, soy sauce (or tamari), garlic and the remaining 1/4 tsp. each salt and pepper in a small bowl. Brush the chicken with half of the glaze.
STEP 3
Roast the chicken and vegetables for 15 minutes. Stir the vegetables; turn the chicken and brush with the remaining glaze. Continue roasting until the chicken registers at least 165 degrees F on an instant-read thermometer and the potatoes are tender, about 20 minutes more.
Nutrition Value
328 Kcal,
10g fat,
2g saturated fat,
7g fiber,
20g protein,
41g carbs