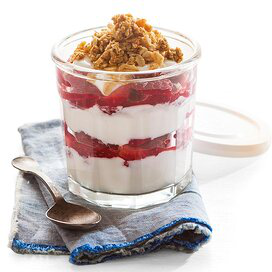 STRAWBERRY & YOGURT PARFAIT
This strawberry parfait recipe combines fresh fruit, Greek yogurt and crunchy granola for an easy breakfast.
MAKES 1 SERVINGS/ TOTAL TIME 10 MINUTE
INGREDIENTS
cup sliced fresh strawberries
1 teaspoon sugar
½ cup nonfat plain Greek yogurt
¼ cup granola

STEP 1

Combine strawberries and sugar in a small bowl and let stand until the berries start to release juice, about 5 minutes.
STEP 2
To assemble parfait, layer yogurt and the strawberries with their juice in a 2-cup container. Top with granola.
Nutrition Value

285 Kcal, 8.3g fat,
1.4g saturated fat,
6.1g fiber,
17.1g protein,
37.2g carbs