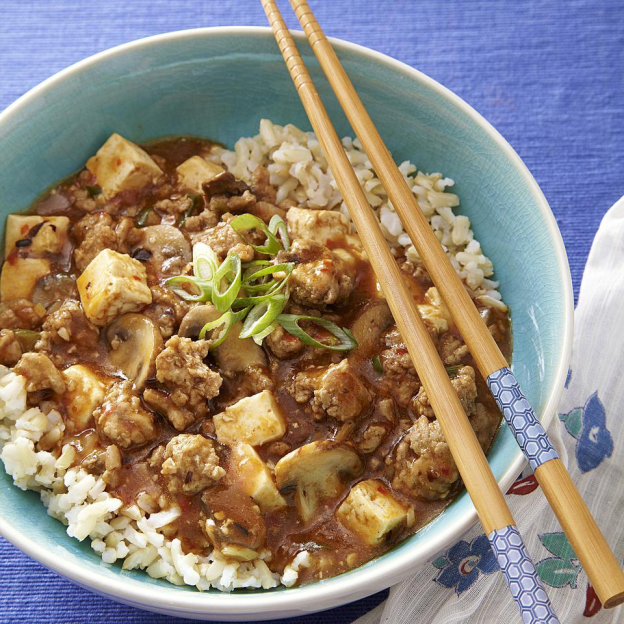 Ma Po Tofu is a traditional Chinese recipe usually made with ground pork.
MAKES 4 SERVING/ TOTAL TIME 30 MINUTES
INGREDIENTS
2 tablespoons chile-garlic sauce
1 ½ tablespoons black bean-garlic sauce
1 tablespoon Chinese rice wine or dry sherry
2 teaspoons reduced-sodium soy sauce
1 ¼ cups water plus 2 tablespoons, divided
2 tablespoons canola oil
1 pound 93%-lean ground turkey
8 ounces cremini mushrooms, sliced
4 scallions, thinly sliced
1 teaspoon minced fresh ginger
1 14- to 16-ounce package water-packed soft tofu, cut into 1/2-inch cubes
2 tablespoons cornstarch
METHOD

STEP 1

Whisk chile-garlic sauce, black bean sauce, rice wine (or sherry), soy sauce and 1 1/4 cups water in a small bowl.
STEP 2
Heat oil in a large skillet over medium-high heat. Add turkey and mushrooms and cook, stirring and breaking up the turkey, until it is no longer pink, 3 to 5 minutes. Add scallions and ginger and cook, stirring, for 1 minute more.
STEP 3 
Add the reserved sauce; bring to a boil. Stir in tofu and cook until hot, about 2 minutes. Combine cornstarch with the remaining 2 tablespoons water and add to the pan. Simmer until the sauce is thickened, about 2 minutes.
Nutrition Value
320 Kcal,
17.8g fat,
3.1g saturated fat,
1g fiber,
30.4g protein,
11g carbs